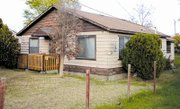 The second Loving Sunnyside day is coming on Saturday, Nov. 7. Six homes have been chosen for painting and other exterior clean-up. These homes hold people and families whose lives will be changed because there are people in the community who care about them.
One family is a mom, dad and three sons-9, 13 and 17. The dad works every day at a dairy. The mom works when she can in the orchards. The 17 year-old took as his senior class project the repair of his home and has already spent eight hours replacing missing shingles and siding. His brothers have been helping him scrape the home in preparation for painting. It was going to take them the whole school year to complete the project, especially considering the cost of supplies.
With the Loving Sunnysiders coming to help with the painting, the senior class young man will now be able to do other repairs that the home needs. He and his mom will be helping next Saturday. His dad can't change his work hours or he would also join in the crew.
Who are these Loving Sunnysiders? Anyone who wants to help.
The group needs at least 120 volunteers. Just check in at the Sunnyside Christian High School gym around 7 in the morning on Nov. 7 for breakfast and assignment to a work crew. Lunch will be brought to you at the worksites. Clean-up will begin at 1:30 that day, so volunteers will probably be home again by 2 p.m.
This initiative is sponsored by the Sunnyside Christian Reformed Church and Transformation Sunnyside, but volunteers don't have to be in a group or even a church to take part. Local residents just have to put their love into action, their hands into service.
Now is the time to step up, clean up, and fix up the community, say organizers of the second annual event. It's organized. The paint and brushes will be there, the food is provided.
Loving Sunnyside organizers say all that is needed to make Sunnyside a better place for all to live and work is a commitment by local residents, themselves. They ask that people simply show their love for others by helping local families, their homes and their neighborhoods.