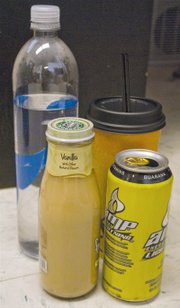 Students at Sunnyside High School have been reintroduced to an old school policy that in recent years was not being enforced.
The policy prohibits open beverages and food from being in the hallways at school, and Assistant Principal Ryan Maxwell admitted staff has been up until recently allowing students to subvert it.
"It's a prevention measure," he explained, stating the administration decided to reinforce the policy this year because it has seen a couple of incidents each year that serve as reminders for the reasoning behind the policy.
"It's not uncommon for students to bring alcohol to school, whether disguised as another beverage or mixed with another beverage," said Maxwell, explaining students have been practicing such methods for decades.
Juice and milk pouches provided by the school at breakfast and lunch are now the only beverages allowed in the hallways at Sunnyside High School.
Maxwell said some teachers allow other beverages in the classroom, but it is up to the teacher as to whether or not soft drinks are allowed. In which case, the beverages must not be open until the student shows it to the teacher and opens it in front of the teacher.
"This isn't anything new," said Maxwell, stating a similar policy was enforced when he himself was a student.
"We just don't want students bringing alcohol to school," he explained.