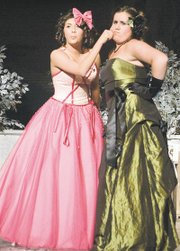 The cast of Sunnyside High School's production of Cinderella shined last night as the theater group kicked off a run of shows.
Crystal Rivera plays the title role of Cinderella and does a good job of being the shy, soon-to-be princess. Her voice is lovely.
But like so many other productions of Cinderella the show was stolen by the spoiled, bratty characters of Cinderella's evil step-sisters, played by Lainey Lou Rodriguez (Portia) and Hailey Moore (Joy).
These two did a wonderful job of annoying the heck out of Cinderella with their demands. The step-mother, played by Jazmine Salmeron, played her part to the hilt as well, but she could have been a little more evil.
The story tells the tale of Cinderella, a poor girl who is forced to live with her step-mother and two step-sisters.
Cinderella is forced to do the chores and is dressed in rags, while her step-siblings live a life of luxury.
While her family attends the Royal Ball at the castle, Cinderella's godmother does a little razzle-dazzle that allows Cinderella to attend as well, where she stills the heart of the prince.
I've been to quite a few plays put on by Sunnyside High School students and I thought the effort here in putting together the stage and the costumes was first-rate. Probably the best I've seen.
The actors were wonderful. Rodriguez is truly a natural at acting and singing. Giovanni Rodriguez, as the prince, is coming in to his own as an actor. It's been fun to watch his progress.
Some of the actors in the minor roles needed to speak up a bit. In the opening market scene it was hard to hear the lines, even with the microphones on. But since this was opening night things should get better as they go along.
The show will be staged on Saturday, Oct. 31, at 1 p.m. at Sunnyside High School. It will continue its run starting on Thursday, Nov. 5, and continue on Friday, Nov. 6 and Saturday, Nov. 7. The Nov. 5-7 shows are at 7 p.m.
Cost to attend the show is $6 for adults and $3 for senior citizens and students. The special Halloween performance will be discounted to $3 for general admission and $1 for children under 12.