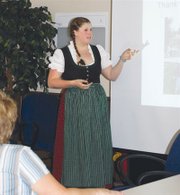 Sunnyside's Emily Shuttleworth was on hand Wednesday morning to detail her exchange trip to Sunnyside Daybreak Rotarians.
Shuttleworth traveled to Austria in 2008-09 as part of the Rotary Youth Exchange Program.
Shuttleworth graduated from Sunnyside High School before leaving for the trip in August 2008.
"For so many exchange students, it's hard going back to high school after all that freedom," she explained.
Dressed in traditional Austrian garb, Shuttleworth detailed her adventures to Rotarians.
Shuttleworth had to attend a language group in Austria for the trip. "We actually had German classes we had to attend," she said.
Getting from one class to another was actually fun, as Shuttleworth had the option of using a slide or using the stairs.
One spooky aspect of school was the Perchten, an Austrian version of the boogeyman. She and her classmates had been warned to stay in groups of three because Perchten loves to attack tourists. On the last day, sure enough, an Austrian ran into the room yelling, "Get downstairs! Get downstairs! The Perchten are coming!"
Shuttleworth said she was actually spooked as they huddled in the basement, but eventually the Perchten allowed them to take pictures. "In the olden days, they actually beat people up, but now it's just tradition," she said.
She also visited a salt mine called Hallstatt where slides were also used to get from one area to the next.
Her trip to Austria included many hiking adventures, including one in Tauplitz.
During her trip, she also met the Rotary International President, a South Korean.
Another fun stop for Shuttleworth was visiting the cemetery in Salzburg, which inspired the cemetery in the film "The Sound of Music."
She finished off the trip with a tour of Euro, which included stops in Prague, Amsterdam, Belgium, France, Monaco and Italy.
Shuttleworth visited Moulin Rouge in France on her birthday.
Shuttleworth said she now intends to go to college at Central Washington University.
More like this story