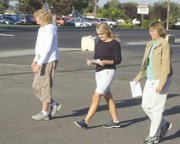 The 2009-10 school year started this week in Sunnyside and last week in Grandview and Prosser.
All of which means it's also time for local Moms In Touch chapters to continue their ministry in praying for schools and students in the Lower Valley.
Moms In Touch International has been a presence in the Lower Valley for about 15 years and today there are nearly 40 moms between Sunnyside and Prosser participating.
The groups meet in homes, churches or in a parking lot near a school campus to pray.
Sheri Boboth is one of the Moms In Touch organizers in the Lower Valley, and she says women in the prayer groups range from liturgical to charismatic backgrounds. But they all agree on the Bible, she says, and the need to pray. As a result, Boboth says the groups "pray scripture," applying specific Bible verses in their prayers for schools and students.
Not only do Moms In Touch meet in different venues, they also pray for different needs. Some pray for elementary schools or middle schools. Boboth said the groups do not pray on school grounds.
Sylvia Flodin is part of a Moms In Touch group that meets in a parking lot across from Sunnyside High School to pray for high school and college students. It's one of five groups that meet in Sunnyside alone. There's another in Grandview that meets at Grandview Church of Christ.
The prayers are working, says Flodin, as she senses more openness in the high school and among students to groups such as Young Life.
Boboth said she has noticed a change in her own life since participating in the Moms In Touch program. "It's helped me not to worry so much about my children and give them to God," said Boboth, whose children are now adults. "It's a blessing to see how faithful God has been in answering prayer."
Deon Herndon also participates in the Moms In Touch group across from Sunnyside High School. She says prayer has helped students get along better in class.
The prayers of Moms In Touch are working, but the group is looking to grow. Boboth said the goal is to have a group praying for every school in the Lower Valley. There is hope of starting a Spanish language Moms In Touch group.
Moms In Touch International of the Lower Valley is having a fall kick-off for the new school year on Monday, Sept. 14, from 7 to 8:30 p.m. at the Boboth Vision Clinic, 403 Euclid in Grandview.
For more information about joining or starting a Moms In Touch prayer group, contact Boboth at 837-3459.