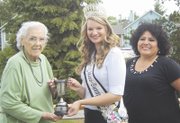 When Miss Sunnyside Pageant Director Teri Alvarez-Ziegler got word that a possible Miss Sunnyside program relic had been found, she jumped at the chance to look at it.
"I received a phone call from a woman (Barbara Brille) wondering if I would be interested in a donation of a relic related to Miss Sunnyside," said Alvarez-Zeigler. "Of course I was!"
Brille's mother, Helen Pace, had passed away and she found the old silver trophy cup when going through her mother's things.
Miss Sunnyside Rebekah Paulakis then traveled to Tacoma during the Labor Day weekend to collect the lost relic.
"(It's) a trophy from the 1930s," explained Alvarez-Ziegler.
The trophy features names of all the women and men selected by the Sunnyside Rotary Club to represent the community that year, said Alvarez-Ziegler.
"We previously knew there was a Queen of Fete and a Goddess of Progress," she said. "However, this gives us a lot more names than we had before.
"Apparently, the Sunnyside Rotary Club named them and the ladies reigned over that celebration."
Alvarez-Ziegler said she plans on displaying the trophy at the Miss Sunnyside Pageant entryway Sept. 19, then will travel around to local Rotary clubs to share this important part of history with the community.
After that, says Alvarez-Ziegler, "We will donate it to the Sunnyside Museum."