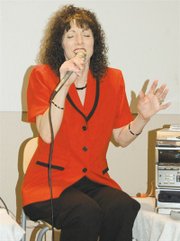 PROSSER - Soar unafraid. That's Jo Franz's mantra.
Franz was the featured guest speaker at the Lower Valley Christian Women's Club meeting in Prosser this past Monday.
Franz is a former nightclub singer, recording artist and author who also happens to be inflicted with multiple sclerosis.
Franz talked about how her personal relationship with Jesus Christ has evolved over the years.
Surprisingly, it began while waiting for a Fifth Dimension concert to start many years ago when a couple sitting next to her began to talk to her about their challenges in life and their faith in God.
"I'd never met anybody like this before," recalled Franz. "Then this lady said to me, 'Are you a Christian?' I said yes."
But the question had gotten Franz's mind to working and she hesitated somewhat in answering. The lady sitting next to her then asked, "Do you know Jesus in a personal way?"
Franz's response was, "I don't know what that means."
The woman then pulled out a little booklet featuring Bible verses. It also said that the reason people don't sense God's love is because people are separated from him via sin, which is addressed through Christ's death on the cross.
The concert began and Franz thought her mind would be able to switch gears and enjoy the music. That wasn't the case. "I thought it would take my mind off this information, but it was waving its hand in my head," she said.
As she and her husband left the concert to go to dinner, she realized a Christian booth was set up at the exit. "It was like somebody was after me," she joked.
During dinner that night, Franz said, "I realized I had a hunger." The people she had talked to at the concert "had a glow about their faces," she said, adding, "I wanted that."
That night, she got down on her knees next to her bed and prayed the simple little prayer in the back of the pamphlet, which featured Bible verse John 3:16. She asked for God's forgiveness.
"I didn't see visions and I didn't hear bells," she said. "But I felt loved like I'd never felt loved before."
Franz then sang a song for the Lower Valley Christian women about victory, which features lyrics that say victory is attained when we obey the Lord.
"What is it that you're holding on to, something in your way," she asked the audience. "What will it be worth come judgment day?"
She and her husband became devout followers and both wanted to go to Seminary to serve God.
"As we prepared to move, I literally had to hold on to the kitchen counter to keep from falling over," she said, explaining that she then began to suffer from debilitating dizziness. Soon, she was suffering from fatigue so tremendous she couldn't even drive. In February of 1978, she was hospitalized. By the time she left the facility, she knew she was suffering from multiple sclerosis, which she describes as in incurable auto-immune disease that attacks the nervous system.
"I knew a little bit about it," she said. "I just wanted to learn how to live with it the way God wanted...as I studied the word of God and realized I wasn't being healed through prayer, then I (knew) if he didn't choose to heal me, there was a purpose in my life. I began to live by giving praise in all things."
She then cited Bible verse Romans 8:28, which says God works all things together for the good. Said Franz, "It doesn't say all things are good. It says God can work them all together for our good."
Soon, she was in a wheelchair and could no longer drive.
Knowing God works for our good became challenging for her the night she watched her husband approach their home, his head hung low. When he entered the house, he confessed to his wife he'd been having an affair with one of her girlfriends.
She fell into a "deep, dark tunnel of despair," she said. "I wanted to forgive him and be forgiven for all the things he didn't like about me."
Over the course of the next few months, Franz watched her marriage crumble even further.
Desperate, she got in her vehicle and as she approached a curve on the roadway that featured an embankment, she hit the gas, intentionally making an attempt to end her life.
Then, she said, God took the wheel. "He said, 'No, Jo. Trust me. I still have a plan for you'."
Her husband filed for a divorce that she didn't want after 15 years of marriage. Franz called out to God and that's when she experienced an entirely new dimension to God's love.
"I felt his daddy arms wrap around me for the first time in my life," she said. "I had experienced his love before, but not his daddy love."
Single, she began to engage in new activities, despite the MS. She learned how to ski and ride a tandem bicycle. She also began a singing ministry. Soon, she said, she started attending a singles' breakfast. "I need friends to do things with," she said, simply.
There, she met a tall, good looking man. She gave him a good glance or two over the next few weeks, but didn't make contact.
Soon, he called. "I never expected to be dating at my age with MS," she said.
She asked to call him back later that evening and decided to consult with a friend. Her friend said, "You can't interview him!" Franz retorted, "Yes I can!"
The two then "interviewed" each other later that night for about 45 minutes. She realized he didn't know she had MS and offered him an out on the date offer. He hadn't even noticed she used crutches. She then learned he was a single parent to two girls, then ages seven and nine.
The rest of the love story, she said, can be found in the book "Soar Unafraid."
She culminated her conversation with the Lower Valley Christian Women's Club by saying, "I never come to a function like this without giving everybody here the opportunity to have the kind of relationship I know God wants to have with them."
It was then that she prayed for each individual in the room, that they would experience God's love first hand and intimately.
"I wouldn't trade anything I've been through because of the incredible closeness I have with God," she said.
For the closing song Franz sang, "God is great, but sometimes life ain't good. Sometimes when I pray it doesn't turn out the way I think it should, but I do it anyway."