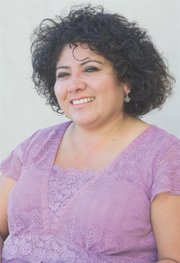 Sunnyside's Teri Alvarez-Ziegler has been selected to serve as this year's Sunshine Days parade marshal.
According to Sunnyside Chamber of Commerce Director Pam Turner, Alvarez-Ziegler, a teacher and Miss Sunnyside Pageant coordinator, was chosen because of the work she does with children in the community.
"She's done so much for our children as a teacher and for the Miss Sunnyside court, the ambassadors of our community," Turner said.
Alvarez-Ziegler works at Sunnyside High School, where she teaches honors biology and forensics. Teaching is a second career for Alvarez-Ziegler. She went to school in her mid to late 30s to become a teacher. Before that, she worked in the medical field in various aspects.
"I needed a change," she said. "I always enjoyed science, so it was just kind of a natural progression."
Perhaps what she's best known for is her involvement with the Miss Sunnyside program, which to many would appear to be an exhaustive endeavor.
Not only does Alvarez-Ziegler plan the pageant, she also serves as the lead chaperone of the court.
That's a change she implemented when she first became involved in the program. Before Alvarez-Ziegler was pageant director, the two roles were split up. But because the pageant director spends the summer getting pageant contestants ready for the September event, Alvarez-Ziegler felt it made more sense for them to remain with the person they have spent so much time with practicing for the big event.
"I wanted to put the two together because you get to know the girls over the summer, they're comfortable with you, they know you, so they don't have to start over getting to know someone new."
When asked why she has spent the last five years serving the program, she joked, "Well it certainly isn't the money." Seriously, she added, "I don't get paid anything, I volunteer. Any funds that are raised go to the girls' expenses related to their representation of the community."
Added Alvarez-Ziegler, "I get a lot of satisfaction out of seeing the growth in these young girls. Even from summer to the pageant, the growth is just tremendous."
She said the contestants learn to carry themselves well and become more articulate and proper.
And, she added, "They just become more conscious of the community."
Of being selected to serve as parade marshal, she said, "It's an honor. Anytime you're recognized, whether it's at work or in the community, it's always an honor."
She won't be doing the royal wave, though. "My girls laugh and say I don't wave right," she said.