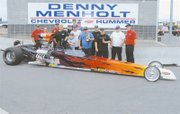 Michael Dalrymple's quest for perfection got a much needed boost last month when he picked up a NHRA Division 6 win in Montana and a semi-final showing in Minnesota.
The two performances earned the Sunnyside drag racer enough points to stay tied with Geoff Hughes for second place in the divisional points race. Both Dalrymple and Hughes are 29 points out of first place. Nationally, Dalrymple sits in the 12th spot for all super comp class racers.
Dalrymple won for the second year in a row at Yellowstone Drag Strip in Acton, Mont. in late August.
The divisional event offered three races for Dalrymple, who was given a first round bye. After winning two races Dalrymple and his opponent, which was Hughes, were dialed in at 9.25 seconds.
This is the time that both drivers couldn't go faster than. The goal for both drivers is to win the race but not go faster than 9.25 seconds. This is harder than it sounds when both drivers are pushing their dragsters at 170 mph.
As fate would have it both drivers 'broke out', or went faster than their dialed in time. Dalrymple finished the race in 9.239 seconds, while Hughes clocked a time of 9.236 seconds. Because Dalrymple was closest to the dialed time, he won.
The win brought Dalrymple 85 points and put him in sixth place on the national points board. Since then he has fallen to 12th.
Earlier in August Dalrymple competed in the Lucas Oil Nationals in Brainard, Minn.
Dalrymple made it to the semi-finals, winning five races on the way. The index dialed for the race was 8.90 seconds.
"The guy ran a better race than I did," Dalrymple said of his Minnesota semi-final opponent. "He had a better package than I did."
Dalrymple hit speeds up to 173 mph in the race and finished in 8.92 seconds. His opponent won the race but ended up rolling his dragster at the finish line.
In the fourth round of competition Dalrymple raced the national points leader and beat him. Dalrymple said he was better off the line and at the finish.
"I ran right on the index," he said.
Out of the 82 competitors at the Minnesota event, Dalrymple finished third and picked up 83 points towards his national points total.
He said that most of the other racers ahead of him in the points total have about three more races than him. Dalrymple still has at least three races before the year ends in November, maybe four. Although it's pretty slim to see him pick up enough points to win nationally, divisionally he is right in the thick of it.
The Montana race was his second victory this year, having won a national event in Seattle in July.
Dalrymple will head to Medford, Ore. this weekend to compete in a divisional race.