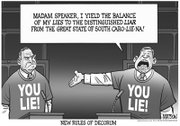 The lie heard around the world. Or, should I say, the accusation heard around the world.
South Carolina Republican Congressman Joe Wilson made a name for himself a couple of weeks back when he created a major faux pas. Wilson had the audacity to call President Obama a liar. And not only did he call Obama a liar, he called him that to his face, during a nationally televised speech the President was giving to Congress addressing health care.
The left went crazy. The right responded by carefully pointing out how they didn't agree with Wilson's outburst but then pointed out how right Wilson was. They would solemnly point to the lie-riddled speech Obama was giving and then sympathetically ask, "Can you really blame him?"
So, what was my reaction to all of this? I thought, so what?
Sure, Wilson's outburst was rude. One could even argue that it was Wilson that was lying and not the President. But for Wilson to be elevated to hero status by the right or villain status by the left is just ridiculous.
Campaign donations flew into Wilson's coffers after the outburst, which is kind of ridiculous. On that same note, for his Democratic challenger to have received almost as much as Wilson did in campaign donations since this incident is also ridiculous. The notion that people would flood either candidate with cash because of Wilson's, "You lie," outburst is insane.
I mean, it wasn't like he pulled a Muntadher al-Zaidi.
Do you remember him?
He was the shoe thrower who interrupted Bush's news conference with Iraqi Prime Minister Nuri al-Maliki. He ended up being sentenced to three years in prison for his outburst.
Now, Wilson didn't even come close to that, although I have to admit it would have been hilarious if Wilson had thrown his shoes at Obama. I'm not encouraging that, I just think it would have been funny.
I got a lot of heat when I wrote that about Bush but I think I'm safe here in Sunnyside writing the same about Obama.
I understand Wilson's outburst was rude and wrong. I just don't have a problem with it.
I would hate to see further incidents like this in the future. I don't think these faux pas' do anything to further along the discussion. But the man apologized to Obama and the President accepted. That should have been the end of the story.
For Congress to censure him was a mistake in my eyes. Wilson himself admitted it was just an emotional outburst and he shouldn't have said it. That should have been enough. Now though, Congress has made sure that this man, who seems nice enough, will now be a cult hero in the Republican party for years to come.
And I find that sad.