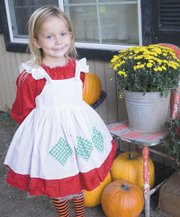 Halloween costumes can be costly and are often made of materials that keep them from lasting beyond All Hallow's Eve.
Seamstress Lora Solis of Sunnyside says that doesn't have to be the case. She said many of her designs are made to fit the budget and often have more than one use.
"An apron over a pinafore can be used for a number of different costume ideas," she shared, stating children's book characters such as Little Red Riding Hood or Goldilocks can be recreated with the combination.
Solis sells her designs via the internet and said this year's most popular costume design is Strawberry Shortcake. She uses an apron and a red peasant dress combined with tutus to recreate the costume.
"Add some decorative tights and you have your character," she said.
The peasant dress can double as a school dress or a Christmas dress because of its simple design, Solis added, stating the simplicity helps with tight budgets.
"Layering is the key to any good costume," she noted, stating different costumes unique in design can be conjured up after raiding the closets.
Those costumes, Solis said, created from lost treasures give the design a special character and it is often the creative design that reflects a level of individuality.
For boys, she said wizards are popular this Halloween. For such a costume, a cloak can be created from a bathrobe. She lines a hooded robe with a fun fabric and it can be used after Halloween for its original purpose.
Another practical costume, according to Solis, is a cowboy or cowgirl because the boots are often used continuously. The rest of the costume is fun for young children to use during play time.
"It's all about imagination," she commented, saying women approach her so they can have a wedding dress re-purposed. There are a number of ideas she can think of for this.
Solis said the dress can be used for its fabric, dyed or dip-dyed. A person can dress as an angel or a fairy using a wedding gown and imagination.
"Duct tape and pool noodles are also great," she continued sharing ideas.
Solis said a robot can be created using these items and thinsulate.
"Add springs and other gadgets to complete the look," she shared.
Solis said a person doesn't have to spend a lot on creating simple designs. She said options to visiting the fabric store include thrift shops, where she often finds fun fabrics at. Tulle is a favorite fabric because it has many uses.
Combine a simple black outfit with some tulle and a number of costumes can be inspired.
"My mom used some black and purple tulle with a black skirt to transform into Ursula from the Little Mermaid," Solis stated.
For those who would prefer an economical costume designed by someone else, Solis recommends a website (www.etsy.com). She said there is a feature on the site that allows a person to set a budget and specify the need. Designers bid on the job and the winning bid, said Solis, never is above the price specified.
Other online auction sites are another suggestion she has, stating there are many ways to find a costume that won't hurt the pocketbook.