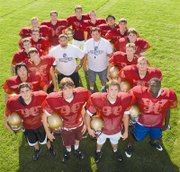 Get ready for offensive fireworks and perpetual motion tomorrow, Friday, when the Sunnyside Christian Knights unveil their new eight-man football team here for the first time.
Sunnyside Christian has played three games in this inaugural season, but tomorrow's tilt against Arlington, Ore. at Clem Senn Field at 7 p.m. will be the first in Sunnyside.
"From what I've witnessed, there are a lot more big plays that happen," said Sunnyside Christian Coach Ray Hernandez, in his first year helming an eight-man program after being a long-time gridiron assistant in Wapato.
All it takes, he says, is one seam and one player can go for six from anywhere on the field.
"Once a players gets out there's a good chance they're gone," he says. "You can expect big running plays. If you get outside, you just try to outrun everybody."
Sunnyside Christian has a quarterback, Steven Bosma, who has already shown opponents he can do just that.
"This is his first year in football," Hernandez said of Bosma, who pretty much every game flirts with reaching triple digits in both passing and rushing yardage. "He is a smart kid and a natural athlete."
Speaking of Bosma, Hernandez said appearances can be deceiving.
"He's not the biggest guy, in fact he's one of the lighter guys we have," the coach said. "But he's so quick and has such a big heart."
Hernandez added of his all-everything quarterback, "He doesn't give up and that shows on the field. It takes more than one guy to bring him down almost every time."
Hernandez said other players on offense to watch for on Sunnyside Christian's 18-player line-up include pass catchers Steven Broersma and Kevin DeJong, as well as tailback John den Hoed.
On defense, the coach says to keep an eye on middle linebacker Ryker Van Belle, defensive end Ryan Burton and noseguard/defensive tackle Jackson Haak.
In the eight-man scheme of things, Sunnyside Christian's offense typically features two ends in place of where you would typically see tackles, Hernandez said.
Eight-man rules require the offense to have five players on the line of scrimmage, which means teams typically don't line up with traditional receiver formations. The ends, Hernandez explains, will often serve as receivers to provide a passing outlet.
Fans tomorrow night can also expect to see some new defensive wrinkles because of the eight-man game.
"A lot of times your corners are linebackers," Hernandez noted. "They have to play a double role. You won't see a traditional cornerback."
He said eight-man defensive schemes often feature "a lot of man coverage." Up front, the defense must have at least three players on the line of scrimmage. Sunnyside Christian this season has rotated between having a three and four man front, with some success.
The field dimensions and rest of the rules are just the same as traditional 11-man football, though the eight-man game does have a 45-point mercy rule. If one team gains a 45-point lead the game is called.
The only two exceptions are if it's in the first half - in which case the offense gets one series in the second half to trim the lead - or if both coaches agree beforehand to continue playing.
Hernandez said Sunnyside Christian's players are ready to take the wraps off the school's first-ever football game in front of its first-ever home crowd.
"The kids are excited about it because all their friends and family are going to be there, probably the whole school will be there," he said.
The entire Sunnyside community is invited to watch the contest. After all, if it's Friday night, it's high school football under the lights.
"It's regular football with the excitement that comes with it," said Hernandez.