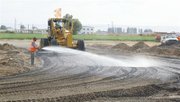 Work has been underway since the end of August to replace the taxiway at the Sunnyside Airport.
Physical construction should wrap up by Oct. 9, said Jim Bridges, Sunnyside's interim city manager.
"It's about 85 percent complete," he said, noting the primary work left to do on the taxiway is site grading. Bridges said sometime in early November the new taxiway will be striped.
Design and construction of the taxiway is largely funded through a $688,000 FAA grant.
Bridges said the previous taxiway had four to six-inch cracks in places and was unrepairable. "It was in horrendous condition," he said.
The taxiway is used by planes to access the runway. Because Sunnyside envisions extending its runway out to 4,000 feet eventually, Bridges said FAA rules required more space between the wings of airplanes traveling on the taxiway and runway.
As a result, he said the newly built taxiway is 90 feet longer and was moved 90 feet to the south of the previous one.
Bridges noted the airport has been open to airplanes during the construction project.
Contractor for the project is Belsaas and Smith of Ellensburg, which earlier this year completed work on improving the Cle Elum airport.