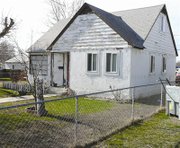 Saturday, April 17, six homes in Sunnyside will be cleaned up and will receive a fresh coat of paint.
These homes will be painted free of charge by those involved in the Loving Sunnyside Initiative. It is the goal of the volunteers for the organization to paint at least 10 homes each year in the Sunnyside area...to not only beautify our community, but to also demonstrate the love that community members have for each other.
The Loving Sunnyside Initiative organization invites everyone in the community to be involved in helping this event happen. To accomplish painting six homes in one day the organization needs approximately 150 volunteers.
Community members can give back, assisting with painting, serving breakfast or lunch, providing food for either of the two meals or through financial contributions used to fund the cost of painting the homes.
The cost is approximately $500 per home for supplies and materials.
Loving Sunnyside Initiative is eager to find ways for everyone to join forces to help Sunnyside be the best community possible.
To sign up to volunteer or to support these efforts in any other way, call 837-5371 (English) or 837-2252 (Spanish) or via email at l-lwerk@charter.net.
Loving Sunnyside Initiative will meet April 17 at its kick-off site from 6:30 to 7 a.m. The site is at the Sunnyside Christian High School gym and volunteers will be setting up there. From 7 to 7:45 a.m. volunteers can register and enjoy breakfast. Between 7:45 and 7:55 a.m. a kick-off presentation will be provided. Beginning at 7:55 a.m. those working at the various homes will venture to their designated sites. From 8 a.m. to noon properties are to be cleaned and painted, with half-hour lunch beginning at noon. Any finish work and clean-up remaining will follow lunch, and the day is scheduled to end at 2 p.m.
Volunteers will also be provided snacks throughout the day.