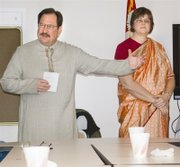 Wanting to be a part of the world community, serving others in need, Ron and Sue Jetter of Sunnyside recently traveled to southern India on a missions trip.
The goal of the trip, Mrs. Jetter told Sunnyside Daybreak Rotarians this past Wednesday, was to work on a remodeling project in Chennai.
The city is the capital of the state of Tamil Nadu and is the fifth most populous city in all of India.
The Jetters and a group from Lutheran Hour Ministries worked to remodel the Christian Media Centre, which has a ministry of providing radio, television and reading materials to convey the message of Christianity to the people of India.
"They have water well projects that we were unfortunately unable to see," shared Mrs. Jetter.
Mr. Jetter told the Rotarians he learned the culture in India is not like that of America. There is an influence of Hindi tradition and "to ignore your neighbor is your religious duty."
He explained that is why many can be seen on the streets, poor and downtrodden.
"We had quite a bit of work to do at the Christian Media Centre," Mrs. Jetter shared, stating remodeling is a concept many in India are not familiar with.
Challenges included shopping for supplies, of which some did not arrive until many days after the project began.
The Jetters provided a slide show to accompany the presentation and among the photos taken on the mission was one of an Indian hardware store.
The store was an open shop and carried some products, but Mrs. Jetter said sheetrock was difficult to find.
Construction in the country is also different from that of the United States. "Most people are working class and the footwear is what they were born with," shared Mr. Jetter, indicating many in India do not wear shoes, but do everything barefooted.
That includes working in construction. He said the workers climb scaffolding and pour cement pillars in sections. Those sections are the contents of buckets containing hand-mixed concrete.
During the remodeling project branches from a tree were pruned and Mr. Jetter said all of the branches were utilized by the people toting them away.
"Women use the leaves for making curry," shared Mrs. Jetter, stating the women would dry the leaves before grinding them into a fine spice used for cooking.
"One thing that is difficult when traveling is dealing with the biological...a biological assault is common," Mr. Jetter shared.
He was in charge of first aid on the trip and logged activity and health concerns.
Showing a photo of a toilet in India, which was a part of the flooring, Mr. Jetter shared those in India use their hand to clean themselves, not toilet paper. Afterwards, they wash their hand under a tap.
"Dysentery is common," he shared.
Reading from his first aid log, he said Desenex, Pepto Bismol and Immodium AD were the products in high demand by those on the mission trip.
Another experience Mrs. Jetter was astounded by was the traffic. She said, "They have lines on the roads, but no one uses them...horn use is common."
She shared the traffic is both intense and noisy. "You have to be on alert."
Indian food, too, did not appeal to Mrs. Jetter's palate. She said many of the foods are spicy, so yogurt based menu items were among the foods she enjoyed.
"Coffee was a highlight of the trip," she continued, sharing three times each day those working at the Christian Media Centre were served a strong coffee.
"After a few small cups you were very awake," Mr. Jetter explained.
Another part of the experience Mrs. Jetter particularly enjoyed was seeing how flowers are used to make designs. "Many shops featured flowers that were woven," she shared, adding it is a tradition in southern India for women to wear jasmine in their hair.
Overall, the Jetters said they enjoyed the mission trip, having the opportunity to experience another culture. The couple, Mr. Jetter said, plans to work on future missions, experiencing other cultures.
More like this story