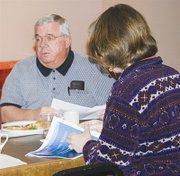 PROSSER - Thursday morning those attending the monthly grape fieldman's breakfast sponsored by Washington State University Extension Services in Prosser were told the water outlook for 2010 is improved.
"A recent March storm improved the precipitation from 33 percent to 78 percent in one week," shared Roza Irrigation District District Manager Tom Monroe.
Each year, he said, the irrigation districts monitor proration levels and he provided those at the meeting with rates during years when water shortages were at issue, stating the Roza Irrigation District managed water delivered to customers through conservation efforts.
"The goal is to make it to September," Monroe stated, adding, "So far, we've been very lucky."
In 2005, for instance, the irrigation district initially turned the water on March 14. That year, though, the district had to turn the water off April 6, but on April 29, began opening up the district's waterways again. The water that year remained on until October 1.
That year, too, the district faced difficult adjustments. Senior water rights users wanted the Roza and other junior water rights users to shut off the water to ensure irrigation to senior districts.
"If the river drops a little, we pro-rate," shared Monroe, stating each junior district takes turns pro-rating water in cooperation with one another. That includes Wapato's irrigation district.
The U.S. Bureau of Reclamation each day posts a system status update. Tuesday, March 30, precipitation was listed at 15.2 inches since March 1. Inflow was at 123 percent and outflow was at 62 percent of average.
Monroe said there was a release of water on March 30 for the incubation flow for fish. "But, we sometimes have to do that," he assured the farmers at the grapefieldman's breakfast.
The outlook continues to be positive with the snow pack in the mountains. The Bureau of Reclamation released a report on March 10, before the March storms, citing snowpack levels were at 61 percent of average.
Monroe believes the numbers are improved as a result of the recent storms and another storm is expected to produce more snow this coming weekend.
The Bureau of Reclamation anticipates 80 percent of average snowpack is likely to be calculated after including the recent snow levels, according to Monroe.
Also improving the waterflow, he shared, are recent improvements to the Sunnyside Valley Irrigation District. Those improvements, shared Monroe, account for an additional 34 cubic feet per second over the Parker Dam.
Future improvements in both that district and the Roza Irrigation District are anticipated, which Monroe said will further improve conservation efforts to further benefit customers in the Yakima Basin.