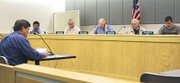 The only item on Thursday night's Sunnyside City Council agenda had to do with Prothman and Company's search for the new city manager.
Greg Prothman, president of Prothman and Company, was present to review with the city council his company's brochure that details the job position, the city and the ideal candidate.
Prothman also discussed a potential salary for the new city manager. His suggestion was in the range of $90,000-$120,000. This range came from a look at the salary of city managers in towns of comparable size, such as Grandview and Centralia. This salary range will allow the city to adjust the pay scale depending on the qualifications and experience of an applicant.
The final item up for review was the timeline for the city manager search. Advertising should begin next week, the schedule shows, and Prothman hopes to have final candidate interviews the week of June 28, with the hope that the new city manager will begin work before the start of the next school year.
All three items presented to the city council were unanimously approved and the search for the new city manager begins next week.