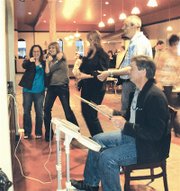 DaVita threw itself a 10th anniversary birthday party this past weekend, to celebrate the past decade of new management.
DaVita, a Fortune 500 company, provides kidney dialysis for patients with end-stage renal disease. Formerly known as Total Renal Care, the name changed 10 years ago when new leaders assumed control of the company.
DaVita (which means "giving life") has been in Sunnyside for about five years, and employees here participated in the company's national celebration. In fact, a celebration was held at The Princess Theatre in Prosser for DaVita's Region 8, which includes Sunnyside and the Lower Valley.
Stephanie Sanchez is facility administrator for the Mt. Adams Kidney Center in Sunnyside, and she says DaVita has reason to celebrate beyond its anniversary.
She noted that DaVita recently met milestones in helping patients off of catheters and implementing fistulas instead for a better quality of life and fewer infections.
Sanchez said Sunnyside serves 75 patients who come from as far away as Toppenish and Prosser.
"Our goal is to be the best dialysis center the world has ever seen," Sanchez said.
She noted it's good for local patients and the Sunnyside community in general to see DaVita successfuly complete its first decade of service.
"Having a stable company in our community, especially to have a Fortune 500 company, is great for Sunnyside," she said.
As a national company, DaVita is also contributing to the search for a cure for kidney failure.