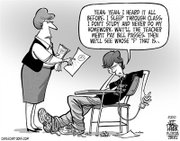 With all apologies to Tom Hanks and, perhaps, Danny Devito, I think it's fair to say that the vast majority of married celebrity men have affairs. Give a guy a taste of fame and fortune -- really any sort of celebrity -- and most will "forget" their marriage with whatever bar skank points her synthetic cleavage and poorly-drawn tattoos his way.
Chris Rock has a routine about how men are as faithful as their options and, while, I think that's an exxageration, all available data shows that famous men have a very limited shot at being faithful. Despite this, the entire nation always seems truly surprised when another sleazy actor, television personaility or miscellaneous famous guy cheats on his wife.
Perhaps Tiger Woods' infidelity was a bit surprising as his carefully crafted fuddy duddy/golf Urkel image made the public think of him as someone who had sex exactly as many times as he had children. Nobody, however, should be shocked that Sandra Bullock's husband, Jesse James -- once married to a porn star -- would be unfaithful.
Still, whether it's Woods sleeping with every morally vacant woman in the country (perhaps the world) or James stepping out on Bullock with a tattoo-covered Nazi, I'm tired of it. It's hard to imagine a worse sin you could commit then betraying your spouse, yet the public never seems that outraged by it.
We certainly lap up the lascivious details in various tabloid magazines and we all want to know what happened, but in the end, as a society, we seem to treat infidelity as an "oopsie" instead of as a major character flaw. It took about 10 minutes for us to forgive Kobe Bryant who had to confess to cheating on his wife to combat rape charges and nobody even seems that mad at John Edwards who cheated on his cancer-stricken wife while running for president.
I could understand our willingness to forgive if a celebrity (or a regular person) had a one-time transgression, but when a pattern emerges it's time to be angry. Woods, Edwards, James and their ilk did not get drunk at the office Christmas party and kiss their cute co-worker, confess and apologize. They willingly betrayed their spouses, putting them at risk of public humiliation and they did it repeatedly.
We should not let the women in these affairs off the hook either as it might be possible to not know that the guy you met in a bar at the Sheraton is married, but it's pretty easy to determine that Woods is. If someone has a Wikipedia page, appears in campaign commercials with his wife or shows up next to her at the Academy Awards, it's simple enough to know whether or not he's single.
If you don't want to be faithful, don't be married. I'm sure that having the "honey I really like you but I want to sleep around so we should get divorced" conversation would be horrible, but it can't be worse than when she finds out after the fact.
We live in a world where a Web site actually exists to help married people "have discreet affairs." This particular multimillion dollar business acts as if the problem with infidelity comes from getting caught, not from betraying the trust of your spouse and humiliating your family.
Well, let me say that it's not about whether you get away with it or not, it's about whether you are the type of person who acts this way in the first place.
- Daniel B. Kline's work appears in more than 100 papers weekly. He can be reached at dan@notastep.com