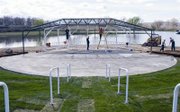 GRANGER - After years of thought and conversation, the city of Granger finally has an amphitheater.
This past January Granger Public Works Director Jack Burnes and Assistant Director Jodie Luke visited Yakima's Franklin Park for ideas.
"It's the progression of all that is being done at Hisey Park," said Burnes, sharing action soon followed his visit to Yakima.
He and Luke decided the design would include a terraced hillside leading down to the amphitheater. The terracing and handrails along a pathway provide community members easier access to the entertainment area.
The stage of the amphitheater that has previously been built at Hisey Park has been expanded 130 percent, according to the public works director.
Burnes admits a dinosaur did need to be moved from its former location, but it remains a part of Hisey Park and is now located in the playground area in front of the concessions.
Added to the amphitheater also is a new sound system Burnes feels will enhance the experience of those using the facility. "Larger groups might have their own sound system, but this one is nice for garage bands and other organizations without their own equipment," he noted.
The amphitheater is a community effort. He said Cargill donated the sod for the hillside and several contractors helped with the installation of electrical systems.
The electrical systems have been expanded to accommodate several vendor stations along the fencing to the park. Also featured for the vendor stations is access to water.
"We want to provide several events, bringing people to Granger...the vendor stations will work well for craft fairs, a variety of community events and radio events held here," shared Burnes.
To celebrate the efforts of building the amphitheater, Granger will be hosting an unveiling and community celebration Saturday, April 10.
Burnes said it is being made possible through the cooperative efforts of each department from the city of Granger. "They are really pulling together," he shared.
The celebration will take place at Granger's Hisey Park beginning at 1 p.m.
At the event the name of the amphitheater will be unveiled, a ribbon cutting ceremony will take place and guest speakers will take note of the occasion.
Door prizes will be given away. Refreshments and entertainment will be provided, as well.
"We really believe the improvements will bring more to the community," Burnes stated.