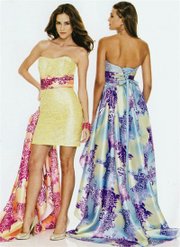 A fashion show featuring formal attire in season this year is set for next Thursday, April 8, at the Sunnyside High School auditorium.
The senior project of Samantha Wright, the fashion show is meant to help those attending prom visualize attire that best fits their body type and skin coloring.
Wright said she planned to have a senior project focusing on physical therapy. That plan changed this past February when she was giving a speech on prom wear.
"I brought with me dresses for various sizes and shapes. I also made sure to have dresses that would be suitable for different skin coloring," she shared.
As the speech progressed the idea of presenting a fashion show took shape.
Wright also showed her classmates tuxedos that are currently in style, explaining different coat lengths and styles are best suited to various body shapes and heights.
History teacher Pete Marquez has helped the Sunnyside High senior plan for the coming fashion show, but she has garnered the support of others, as well.
Wright is the granddaughter of Fashion Corner owner Irene Jochen, who will be providing the fashions to be modeled at the show.
"We plan to show more than 30 dresses and approximately 12 tuxedos," she shared.
Modeling the various styles will be members of the Miss Sunnyside and Miss Cinco de Mayo courts.
"The Mr. SHS contestants will model the fashions for the guys," Wright continued, sharing she has lined up models for both genders of various heights and body styles.
"It is important to show people what type of formal wear appeals to their particular build and height," she shared.
The fashion show is not meant to only appeal to the youngsters planning to attend prom. Wright said there are many occasions when an individual might need to take into account how a particular formal might look on them.
The show is also a benefit for the Muscular Dystrophy Association (MDA).
"I have worked with my stepfather (Josh Roe) and the Sunnyside Fire Department during the 'Fill the Boot' campaign, and I feel it is a good cause," said Wright, adding she contacted the organization and the representative was pleased she chose to donate the funds to MDA.
As for exploring a career in fashion, Wright said that is not her plan.
"I have worked for my grandmother and plan to do so as I pursue a career in radiology," she shared, stating she plans to attend either Yakima Valley Community College or Columbia Basin Community College after high school.
"This is just something I know and I am comfortable...my classmates seemed interested and a fashion show would help more than those who were in my speech class," Wright noted.
Doors to the fashion show open Thursday at 6:45 p.m. The show begins at 7:15 p.m. and there will be a raffle throughout the event.
A minimum donation of $2 is requested to benefit the MDA.