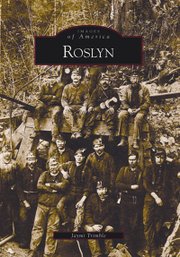 New from Arcadia Publishing is Roslyn, the newest book from Prosser author Jaymi Trimble.
Trimble's account of Roslyn's remarkable history includes stories of murder, a mine strike that ended with the mine boss tied to the railroad tracks, and more.
Roslyn, a mining town nestled in the Cascade Mountains, is a little town with a big history. Founded three years before Washington was admitted to the Union, Roslyn is the pictorial history of an area that became a boomtown after the discovery of coal.
Trimble is an award winning journalist with an M.A. in History from the University of Houston-Clear Lake. According to her biography, Trimble loves to bring history to life for her readers and it was this interest in researching and writing about unsolved mysteries from the past that inspired her to study history.
When Trimble visited Roslyn she fell in love with the little mining town. The first place she visited was a cemetery. As she walked the hilly graveyard she wondered about the lives of the people buried there and decided Roslyn had a story to tell.
With more than 200 vintage photographs depicting life in Roslyn, plus narrative from Trimble, the book explores such highlights of Roslyn as a bank robbery masterminded by Butch Cassidy and the Sundance Kid; the year of the big snow in 1916, when 385 inches fell that year; a coal mining accident that killed 45 people and left 91 children orphaned; and characters like Tony Bailey, a woman who lived as a man for 11 months in 1949 before being arrested one night for using the women's bathroom dressed as a man.
"Those who came before us left an important imprint on the tapestry of history," Trimble said. "I hope through my research and writing that the stories of the people you meet in my book, Roslyn, will live on."
The book explores the haunting that still continues today in Roslyn. This includes a story about the Brick Tavern, one of the oldest taverns in the state, and home to a phantasmic miner that randomly spins barstools.
Trimble will give a presentation titled, Research and the Paranormal Investigation, as well as sign copies of Roslyn, at Barnes and Noble in Kennewick on Friday, April 9, at 7 p.m.