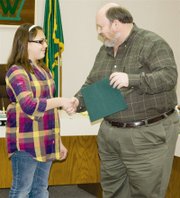 GRANDVIEW - The city of Grandview and YVCC have approved a deal for the city to use the former Carl L. Stevens Senior Center.
Grandview sold the building to YVCC last year with the understanding the city would be able to use the facility through December 2011 for senior citizen programs and other activities.
YVCC plans to eventually use the building as a Grandview campus activity center.
Last night, Monday, the Grandview City Council approved the use agreement.
It was the second time in less than a month that council had considered the use agreement.
At their March 15 regular council meeting, council members were reluctant to sign the document until a monthly custodial services reimbursement fee of $275 was included.
With that matter addressed in the contract presented last night, council authorized Mayor Norm Childress to sign the agreement.
Under terms of the deal, the city of Grandview will have the building available for activities related to senior citizens and the American Legion.
In addition to monthly events, ongoing activities at the building include senior meals, games, health monitoring and dances.
Another piece of the agreement stipulates that the city of Grandview will have through the end of 2011 to remove its furnishings from the building, ranging from office furniture to kitchen appliances.