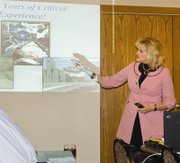 The Sunnyside Noon Rotary Club heard from Northwest MedStar Community Relations Coordinator Mary Gilmore at Monday's meeting, where she detailed the benefits of MedStar.
Northwest MedStar is the region's critical care transport service. Dedicated to the safe, compassionate care and transport of critically ill or injured patients to health care facilities throughout the northwestern United States and Canada, Northwest MedStar uses helicopters, fixed wing aircraft and critical care ambulances.
Northwest MedStar provides immediate on-scene emergency helicopter response, interfacility transports and assists with search and rescue missions.
Gilmore told the Rotarians that Northwest MedStar's flight teams consist of a pilot, a registered nurse and a registered respiratory therapist. The team provides adult, pediatric, maternal and neonatal care.
Pilots must have at least 2,500 hours of flight time and but Gilmore said Northwest MedStar pilots have an average of 5,000 flight hours. The flight nurse must have a minimum of three years of critical care experience. The respiratory nurses must have a minimum of two years experience.
With bases in Spokane and the Tri-Cities, Northwest MedStar's primary service covers 45,000 square miles, encompassing eastern Washington, north Idaho, eastern Oregon and western Montana. Gilmore said this ensures a quick response and the highest level of care.
Gilmore said when an emergency happens and Northwest MedStar is needed, the response time is approximately 10 minutes.
Of the 3,500 annual transports, Gilmore said 10 percent are on-scene responses and 90 percent are interfacility transports.
Gilmore said Northwest MedStar offers memberships for $59 a year or $150 for three years. The membership covers a person's entire family. Gilmore said that a person's insurance will usually cover 80 percent of the cost of transport, but a membership will cover any other out-of-pocket expenses.
Gilmore said a medical transport can cost between $12,000 and $15,000, depending on the area.
For more information on how to become a member contact Northwest MedStar at 866-478-0566 or visit their website at www.nwmedstar.org.