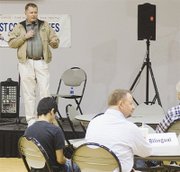 A variety of structured and organized activities, ranging from computer and woodworking classes to chess clubs, is the top priority for the Sunnyside Community Center when it re-opens.
That was the result last night, Tuesday, of a town hall forum at the community center.
Though the city of Sunnyside owns the center, it is allowing Sunnyside's Promise to run the facility and rent it out for events.
During spring break, Sunnyside's Promise board chair Nate Bridges told those at the meeting that there were 200 children and 50 adults who used the community center when it was open.
"They were sad when we had to close it that last day," he said.
Bridges said funds aren't available, yet, to keep the community center open throughout the year. While Sunnyside's Promise works on grant funds to do that, its middle school case workers are opening the center when school is not in session.
The goal at last night's meeting was to narrow the priorities for when the center opens again.
About 30 people attended the meeting and came to the conclusion that the structured activities should be the top priority.
At the same time, there were other areas that many in the audience felt were important for the center to focus on.
These included having city and school meetings at the community center, as well as after-school tutoring and indoor sports camps.
Sister Peggy Kennedy facilitated small group discussions, encouraging those in attendance to brainstorm their hopes for the community center.
Bridges thanked those who turned out for the meeting and generated priorities for the community center. He noted the goals are similar to those that Sunnyside's Promise is working on.
He added that Sunnyside's Promise will try to do more to get the word out to the monolingual Spanish speaking community prior to the next town hall meeting.
Bridges said Sunnyside's Promise will collect all the ideas generated for consideration as it moves ahead.
The most likely scenario is that the community center will re-open during summer break. To have it open longer than that, Bridges noted, will require grant funds.
At the same time, he encouraged those in attendance to join the community center effort on an ongoing basis and volunteer at the center.
"We're looking for funds to get it up and running," he said. "But we need volunteers for these things."