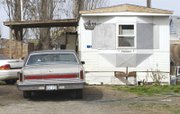 OUTLOOK - Two Outlook homes, one across from the other, were struck by gunfire last night in two shooting incidents.
The homes are located in the 10 block of First Avenue. The first incident occurred at 10 First Avenue just before 9 p.m. yesterday (Tuesday). The second home, 11 First Avenue, was struck just after 12:30 a.m. this morning.
No one was, according to the Yakima County Sheriff's Office, injured in the two drive-by incidents, and deputies believe the shootings to be gang-related. Also, no suspect information is available.
Just after 5 p.m. a resident in the second home reported a theft from her vehicle. The vehicle had been parked at the residence and her mother-in-law reportedly knew information that could lead deputies to a suspect in that incident.
Deputies since yesterday have also been alerted to two domestic violence situations.
A resident in the 300 block of Holmason Road near Sunnyside reported a domestic violence assault just before 6:30 p.m., and a resident in the 2800 block of Hornby Road near Grandview at approximately 8 p.m. reported a domestic violence assault there.
One accident was reported to deputies last night, as well.