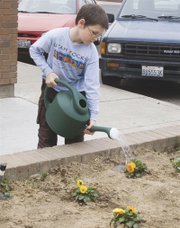 Connor Kuehn, a fourth grade student at Sunnyside Christian Elementary School, knew he had to do a community service project for his class.
The thought of planting flowers somewhere appealed to him but he didn't know where. Then, with a subtle hint from his mother, Kuehn decided to help spruce up the Sunnyside Library by planting flowers in the area in front of the building.
"I asked the people at the library and they said that it would be nice," Kuehn said.
The Kuehn family passes the library every Sunday on their way to and from church. There is a large flower area in front of the library that holds rose bushes, but the area needs some color before the roses bloom.
Kuehn and his mother purchased the flowers at Bi-Mart and soon had them in the ground at the library. To Kuehn, it was a chance to get some flowers in view.
"I don't see many flowers in town except for in my mom's garden," he explained. "I thought Sunnyside needed more flowers."
Sunnyside Christian Elementary School required Kuehn to spend four hours on his community project and after he was finished planting the flowers last week on spring break, he nearly had his time completed. Kuehn and his mother planted approximately 30 pansies in front of the library.
The pansies are in the ground and Kuehn says he stops by to water the flowers whenever he gets the chance, about once every other day.
Kuehn found out that the irrigation line connected to the flower garden was broken. Library staff said the pipe froze during the winter and cracked. This is forcing Kuehn to water by hand and he is looking for volunteers to help out.
He's looking for volunteers to either help make the needed repairs or to help him water the flowers he planted so they don't die.
For interested parties, Kuehn can be contacted at 837-7771.