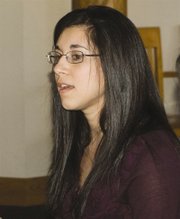 The Sunnyside Chamber of Commerce welcomed Jessica Morgan, Community Outreach Coordinator from Heritage University, at their meeting yesterday, April 8.
Morgan revealed Heritage University's plans for a grant they received from the Department of Housing and Urban Development to help better serve the Yakima Valley businesses and residents.
One plan she was hoping to generate interest in was tourism training. Morgan was interested in knowing if local businesses would like to set up a workshop for the training, which would run about eight hours and can be broken up into two days.
They would teach a tourism and customer service curriculum developed by Tourism British Columbia, Canada and used by the city of Vancouver during the 2010 Winter Olympics.
Morgan also revealed that Heritage University has recently converted a classroom into an Entrepreneur Center. Equipped with 20 new computers, the center will provide a place for budding entrepreneurs to find information on opening up their own businesses. Visitors who utilize the new center will have access to information on business plan development, marketing and permits, and will be made available in both English and Spanish.
The final program Morgan presented was the Bank on Yakima County Initiative. This program is designed to educate the general population about the dangers of payday loans and the benefits of working through recognized banks or credit unions.
Heritage University is hoping that its new programs will be taken advantage of and that they will help generate economic development in the Lower Yakima Valley.