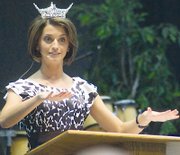 Young Life makes a difference in young lives.
That was the message last night, Thursday, from Miss Washington 2009, Devanni Partridge, during a keynote speech at the annual Young Life fundraising banquet in Sunnyside.
Partridge told the 50 or so people at last night's meeting that she became involved in Young Life while in middle school.
She said the fun and friendships she formed were an important part of her years in middle and high school.
Most importantly, she said Young Life was a way to learn more about Jesus.
Today she wants other students to have that opportunity.
As Miss Washington, Partridge says she is taking a year off from classes at WSU to travel around the state and share the Young Life message. The non-profit, she said, "gives kids an opportunity to learn about the Gospel of Christ."
The Auburn native said one of the most special memories during her years in Young Life was when she and a team went to Tijuana to build homes for families who were without.
She said the houses were very basic, without basic plumbing services, but the people who received them considered them to be mansions.
The experience made Partridge thankful for the blessings she has in this country. She said it also brought her and her classmates closer together.
The evening also included testimonies from students in the Lower Valley who have benefitted from Young Life. One told of how his attitude toward school and his parents has improved.
The evening was also an opportunity to share the needs Lower Valley Young Life has for volunteers, as well as its ongoing monthly budget of $4,000. Funds are also needed to send local Young Life students to summer camp.
The financial data provided showed that the local Young Life group has just $200 in its general fund account.
For her part, Partridge encouraged the audience to get involved financially.
Quoting a testimonial on the Young Life website, she ended her speech by noting, "I can't think of a better return on my investment than the life-changing work of Young Life."