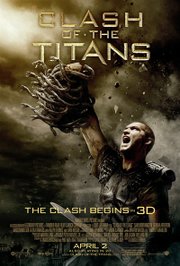 There are no new ideas in Hollywood, some might say, only new talent trying to improve on the old ideas by throwing big budgets and fancy special effects into the mix.
Case in point: Last Friday, April 2, Warner Bros. released Clash of the Titans, the remake of a 1981 cult classic of the same name.
But even with a hot new director in Louis Leterrier, some of the movie industry's very best actors and a budget of $125 million, Clash of the Titans manages to mildly entertain, but certainly not impress, its audience.
The film is based upon a heroic tale that has survived for millennia. It is the story of a demigod, Perseus, who goes on a journey to slay the creature Medusa in order to stop Hades, the god of the underworld, from using his dreaded sea monster the kraken from destroying the city of Argos.
The creators of Clash of the Titans had an abundance of story and characters to draw upon for their film, and yet there is, strangely, a lack of both. Instead, the movie is two hours of action, with little segments of conversation squeezed in between.
Do not misunderstand me. This film is intended to be an action film and it performs quite adequately as one, when compared with some of the junk thrown onto the screens these days.
But movie goers need more in the way of character and plot to make the film worth seeing.
For example, Perseus is accompanied by a small group of soldiers from Argos on his journey to battle Medusa. There is very little about these characters that make them interesting and, without giving anything away, you leave the film wondering why the movie even bothered having them in there.
But whatever did not work with the story, there is no denying the real drawing point for this film is the acting talent found on screen.
If you do not know who Sam Worthington is yet, it is about time you learn his name.
An Australian transplant, Worthington made his big American movie debut in last years' Terminator Salvation. But if you were one of the many movie goers who skipped this one, he is probably most recognizable from the recent smash hit, Avatar.
Worthington takes on the leading role of Perseus in Clash of the Titans. He may not bring anything particularly new to the role, save for a better hair cut than his 1981 predecessor, Harry Hamlin, but Worthington is always fun to watch on screen. Worthington brings intensity to every role he tackles and has proved himself a real contender to be the next big action star.
But the real standout star of Clash of the Titans is found in movie veteran Ralph Fiennes. He takes on the role of the movie's villain Hades, who seeks to use the world's fear of him to build his strength and strike at his brother Zeus, played by another equally talented but sorely under-used actor in this film, Liam Neeson.
Fiennes is no stranger to the villain role. He is probably most known to American audiences as the evil Lord Voldemort in the Harry Potter franchise.
But in this film, Fiennes' Hades looks more like a twisted, withered Dumbledore, but still holds that familiar menacing air whenever he is on screen.
Fiennes is well on his way to becoming one of those actors audiences can only imagine as a villain.
Overall, the film is entertaining, with just enough battles and fairly good special effects to hold the audience's attention for the two-hour runtime.
But by the time the credits role, don't expect to be blown away by what you have just watched. This is one of the few action movies I can honestly say does not need to be seen on the big screen to be truly appreciated.
Even Fiennes' excellent turn on screen is not enough for me to recommend the $10 ticket price.
Wait for the DVD and watch it in the comfort of your own home.