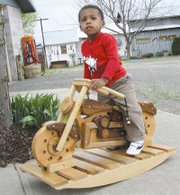 GRANGER - A framed Mickey Mantle autographed photograph with a numbered baseball card is just one of the many items that will be auctioned off at the annual Granger Booster Club sports auction, this year set for Sunday, April 18.
The 1 p.m. auction will be staged at Granger High School.
Also among the items that will be bid on that day are a carved rocking motorcycle, a 22-inch flat screen TV and a pool party that will accommodate 10 people. Other auction items include two beef halves, cuts of lamb, gift certificates, tools, dishes, gift baskets, clothing, toys and household items.
Granger's FFA chapter will be kicking off the gala event by selling barbecued hamburgers.
2010 marks the eighth year the fundraiser has been held. Thus far, more than $60,000 has been raised to support high school athletics in Granger.
Something new at this year's auction will be a dessert table.