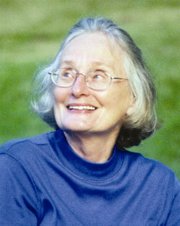 A novel inspired by a true story rolled off the printing presses this month, making an honest woman of the author of the book.
About 20 years ago, Frances Potts of Sunnyside made a promise to the writer of a red leather diary that she would tell his story. Never mind that the writer was not alive when Potts made that promise. It was a promise to herself that she intended to keep.
"I started writing a book with the working title of His Diary when I was in my 40s," said Potts, who celebrated her 75th birthday last August.
"I was working 40-plus hours a week as a journalist at the Toppenish and Wapato newspapers, and just did not have the time to dedicate to the book. Once, I did take a year's sabbatical to work on it, but I spent more time reading other people's books than I did writing my own," she said, laughing.
Potts said she found retirement weighing heavily on her hands last year and got serious about turning a pile of papers into a book.
"I did a complete rewrite of my earlier work and finished The Diary in five months," she said.
Her inspiration for the 655-page novel that finally came into being was that leather diary filled with brief entries her father made daily for 17 months while he was hospitalized with tuberculosis.
"That was in the 1930s when having TB was a stigma hard to live down," said Potts. "No one mentioned the dreaded disease that could kill you unless it was in a derogatory way. If you were without funds to pay for treatment in a private hospital, you relied on charity.
"For my dad, that meant a bed in a county hospital built with funds provided by one of President Roosevelt's New Deal programs. Charity was a hard pill for my dad to swallow."
Potts said she wants people to know that, in spite of subject manner that covers a disease almost as rampant as poverty and unemployment were in those days of the Great Depression, The Diary is not a doom and gloom book.
"And the book is not a biography; it is not history," Potts said, insisting that it is fictional even though she did give some of her characters the names of family members.
She admitted that there are one or two events in the book that are based on some stories that were whispered in family circles as she was growing up. Potts said one cousin challenged her claim that The Diary is pure fiction, saying "I found more truth than fiction in it."
"Since I wouldn't even have been born in 1932 when the story begins, I wouldn't have been privy to the conversations and ins and outs of what happened between some pretty weird fellows in that charity ward or the mysterious visitors some of them had," Potts said. "But if people think it reads true, like real life, I'll take that as a compliment," she added, grinning.
She said that she found some surprises as she wrote the novel.
"The people in this book would run off in their own independent, fictional directions with me sitting at the computer wondering where the heck they were headed," she recalled. "It's the characters who write the books, not the author. Any writer will tell you the same thing, but it's still surprising to see them do things you didn't plan.
"Those characters became as real to me as if I had known them all my life. We had a good time together for five months. We laughed and we cried," said Potts, adding, "I'm going to miss them."
After years of procrastination with this writing projects, Potts said her goal came to be just to get the book into print before she dies.
"I wanted to see my book in the hands of my sons and daughters because, in spite of it being a fictional story, I thought it could give them a new perspective on a flagging economy, to see how people the age of their grandparents handled a depression in the 1930s.
"Now, with tuberculosis making a comeback, I think it is important to see how it took root 80 years ago. I read in the Daily Sun News last week that Washington state has the highest rate of TB in the nation. Believe me, we don't want to see that disease take over again."
Potts said she will be introducing her book to libraries, especially in places she has resided, such as the Yakima Valley, the Upper Kittitas County and Walla Walla, which is the setting for the book.
"I especially want the book in libraries because libraries have provided me with good reading all my life," she explained.
The first such event will be in Sunnyside Sunday, April 25. An author's party will be held in an open house style for the public in the Sunnyside Library's meeting room from 2 to 4 p.m. Cake and punch will be served, and door prizes will be awarded at 3 and 4 p.m.
Potts will give a short presentation beginning at 2:30. She said she intends to keep her remarks short to allow time for a whistling contest.
"When asked what a whistling contest consisted of, she just grinned and said, "You'll have to come and see!"
The Diary will not be on sale at the author's party, but Potts will sign books for those who have pre-purchased them. They are available locally at Melange, 2580 E. Lincoln Ave. in Sunnyside.
More like this story