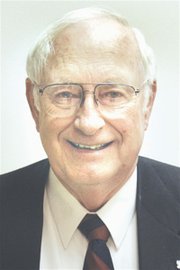 WASHINGTON, D.C. - This week, Sen. Jim Honeyford, R-Sunnyside, joined a select group of lawmakers from across North America in receiving a certificate of graduation from the Legislative Energy Horizon Institute.
"The rise in the cost of energy and gasoline, the global debate over biofuels and their effects on food shortages, and statewide and national plans to tax and ration the public's carbon emissions have put the issue of energy generation and use at the forefront of political thought," said Honeyford, who serves as the ranking Republican on the Washington state Senate Environment, Water and Energy Committee. "This program is going a long way towards helping lawmakers have a better understanding of these issues and how they impact policy-making."
Honeyford has attended a variety of energy-related classes at various meetings in Boise, Idaho; San Diego, Calif.; and Washington D.C.
He was one of only 44 state and provincial legislators selected throughout the United States and Canada to participate in the inaugural class of this program.
"The issues we discussed are some of the most crucial facing the state of Washington," Honeyford said. "The Energy Horizon Institute classes and seminars covered a wide range of complex issues associated with electricity, natural gas and petroleum."
The Legislative Energy Horizon Institute educates legislators about the North American energy infrastructure and delivery system.
The Pacific Northwest Economic Region and the National Conference of State Legislatures (NCSL) partnered with the University of Idaho and the U.S. Department of Energy to create the Institute.
To graduate from the program, Honeyford had to complete three intensive one-day sessions, a four-day intensive session during the summer and a two-and-a-half-day program during NCSL's legislative forum in the fall.
He also had to complete a final two-and-a-half-day session that included meetings with federal regulators during NCSL's spring meeting this week in Washington, D.C. The program included two monthly webinars and is worth 15 college credits.
Classes, travel expenses and materials were all funded by the private energy sector at no expense to taxpayers.