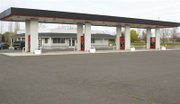 Blue Line Equipment, a company specializing in machines and tractors used for vineyards, orchards and other specialized crops, will soon move from its downtown Sunnyside location to the old Country Foods convenience store located on Yakima Valley Highway near Black Rock Creek Golf Course.
The Blue Line dealership in Sunnyside currently sells Kubota tractors and Gregoire grape harvesters.
Gregg Marrs, owner of Blue Line Equipment, said he has been in Sunnyside for about five years. He spent three years on Factory Road before moving to its current location on Sixth Street in downtown Sunnyside two years ago.
He purchased the property along Yakima Valley Highway in mid-March.
"It's on the highway and has a lot of visibility," Marrs said of the new location. "It's also located in a more country atmosphere, which will allow us more freedom to act like an AG dealership."
He said while in town he's tried to be cautious about noise he makes and other ag related issues, like trucks unloading. He said he knew when he moved into town it would only be a temporary situation.
Marrs said before he makes the move to his new location some construction will need to be completed on the new property. He said the current building will be doubled in size and construction on that project should begin in about two weeks.
The existing building will be used as a showroom and the new add-on will be used for parts storages and a service area.
The move is a result of good business for Blue Line Equipment.
"Our sales have grown, as well as our market share," he said.
Blue Line Equipment in Sunnyside is just one of four locations Blue Line has.
Currently, Marrs said Blue Line Equipment in Sunnyside has five employees. He expects that number to double once the move into the new location is complete.
He will also use the gas pumps that are on site. Marrs said the tanks have all been tested and he said the tanks come with the latest monitoring system. He plans on offering the cheapest gasoline in town.
He also is thinking about utilizing the convenience store portion of the property and might even offer specialized food.
"It's something to enhance what we've already been doing," he said.
Marrs expects to make the move within four months.