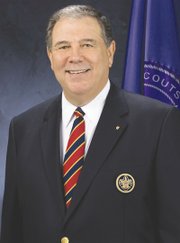 Robert Mazzuca's adult life has been centered around one employer, the Boy Scouts of America.
As a boy he recalled how scouting brought him and his father together.
"My dad saw the benefit of volunteerism through scouting," the Eagle Scout said. "Scouting was important in my relationship with my father."
Today the non-profit's nearly 40-year employee is its chief scout executive. Last week, Mazzuca was in Yakima to present the Quality Council Award to valley scouting leaders.
The stop in our area is part of a year-long celebration marking the Boy Scouts' 100th year.
The centennial was officially on Feb. 8, 2010, but Mazzuca said there are festivities around the country marking the 100th birthday. It all culminates this summer with a worldwide scouting jamboree expected to draw 40,000 scouts.
"We're using the centennial year to ramp up and get people excited about scouting again," says Mazzuca. "It wasn't just a birthday cake, it's about the future."
The San Juan Bautista, Calif. native says planning for the next 100 years is only possible because of scouting's steadfast commitment over the past 100.
"I really believe one of the reasons we're strong and vibrant today is we have never strayed from the fundamental things we teach about being good and decent human beings," he said.
Scouting has changed to fit current trends and technology, such as adding an i-Pod pocket to the scout uniform, but the values never waver, Mazzuca notes.
"The early manuals used to have scouts learn to catch a runaway horse," he chuckled. "But the principles of helping other people at all times and those kinds of values have never changed."
He estimates 110 million people have gone through the Boy Scout program over the first 100 years.
His vision is to make sure many millions more get to experience scouting over the next 100 years.
"The significance of this centennial is laying the foundation for the future," he said. "As long as traits like leadership and being trustworthy are relevant, scouting is relevant."
Mazzuca added, "We don't know what the future holds in terms of technology, but we do know that we will always need leaders of good character. I see scouting playing a vital role as technology evolves."
That ability to adjust, to be flexible is vital for scouting now as it seeks its place in a country with ever growing minority populations.
"Historically we've worked very hard at serving all children," Mazzuca said.
He noted the Boy Scouts had a significant outreach to serve the children who came with their families as refugees to the U.S. from Viet Nam following the war in that country.
Mazzuca says scouting is making efforts also to reach out to the Hispanic community.
"We launched an Hispanic initiative 18 months ago," he said. The result has been the launch of six pilot councils with the hopes of expanding to offer more scouting councils for Hispanic youths.
"There are some cultural issues we need to better understand," said Mazzuca, the son of an Italian immigrant. "Most of Latin America has scouting, but in Mexico scouting is seen as something for the wealthy."
He added, "They see it as unattainable, when we're in fact here for them."
To better reach the parents and kids, the Boy Scouts a few months ago introduced their first Spanish language scouting handbook.
"The parents see this as a huge welcoming opportunity so they can understand what their kids are getting involved in," Mazzuca said.
He said other ongoing outreach efforts are soccer and club scouting programs in Yakima.
Mazzuca says he's proud of how the Boy Scouts are addressing the need of the Hispanic culture, as well as those cultures in the 160 nations that offer scouting.
He says he's proud of scouting in the Yakima Valley, too.
"In 2009 they had a 7 percent increase in membership," Mazzuca said. "In tough economic times they've done well."
He says the Yakima Valley should be proud as well.
"The community should be proud of the scouting service they have here," Mazzuca said. "We're very proud of what's happening here."