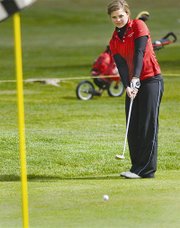 Bragging rights for the low individual round in last Friday's non-league golf match between I-82 rivals Sunnyside and Grandview, on the boys side, ended up being shared by the Grizzlies' Chandler Luther and the Greyhounds' Josh Jardine.
The southpaw Jardine trailed Luther by two strokes when the two rivals made the clubhouse turn, thanks to a nifty 2-under-par 38 turned in by the Grizzly underclassman on the front nine.
The back side didn't get any better for Jardine, as he ballooned from an opening front nine 40 to a bogey mirrored 45. Luther struggled even more after the clubhouse turn, however, absorbing a 47 on the final nine holes to finish at 13-over-par 85, the same finishing score notched by Jardine.
Sunnyside's boys were able to walk off Black Rock Creek Golf Course crowing a bit, though, as the Grizzlies handily came out on top in the team scoring, 351-440.
Besides the 85 turned in by Luther, Sunnyside got two other sub-90 rounds...an 86 from Tanner Markham (48-38) and an 88 from Nathan Espinoza (45-43). Nick Navarro rounded out Sunnyside's team scoring with a 92 (47-45).
Grandview's boys, besides Jardine's 85, settled for a 93 from Ryan Contreras (44-49), a 130 from Dylan Parker (71-59) and a 132 from Cameron Dillon (72-60).
In last Friday's non-league girls competition, which also featured Selah, Renae Visser of Sunnyside claimed medalist honors over Selah's Briana Nelson by a single stroke. Visser recorded a 96 on front and back side nines of 47-49. Nelson shot a 97 (53-44).
The only other Sunnyside girl on this year's team, Sarah Swinehart, posted a 132 (64-68) last Friday. In her two previous outings this season, Swinehart has been in the 140's for her 18-hole rounds.
Because the Lady Grizzlies only field two golfers, officially they absorbed a pair of team losses to Selah and Grandview last Friday.
The Lady Vikings came away with the low team score in the girls match, shooting an aggregate 437.
Grandview's girls compiled a team score of 655. Taylor McKinney's 148 (73-75) was the low individual round for the Lady Greyhounds. Grandview also got individual rounds of 162 (76-86) from Kayla Lucas, 172 (85-87) from Natasha Lara and 173 (93-80) from Ashley Jackson.
The good news for Grandview, according to Coach Dave Uggetti, is that last Friday was the first time in two years the Greyhounds were able to fill complete four-member squads on the both the boys and girls sides of a competition.
"It's a step in the right direction for us," he said.
The Grandview boys and girls teams' next scheduled competition is this coming Thursday against Prosser, Sunnyside and East Valley at Black Rock Creek.
Sunnyside's golf squads are next scheduled to compete in CBBN league matches this coming Wednesday...the boys at Apple Tree Golf Resort in Yakima and the girls at Richland's Horn Rapids Golf Course.
More like this story