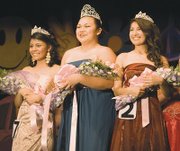 GRANDVIEW - Last Saturday night, April 10, people from across the Yakima Valley gathered at Grandview Middle School for "Groovin' with Miss Grandview," where nine young ladies vied for the title of Miss Grandview.
Formerly Junior Miss, the Miss Grandview program brought together unique and talented young ladies as they competed to prove they had the qualities and values to represent their community.
Through several diverse challenges, the nine young ladies were judged on everything from fitness to participation, to talent.
And the talent portion of the show was certainly the most entertaining event of the evening, with each girl displaying their own unique abilities.
There were the traditional acts from dancing to cheer, but then a few young ladies presented something truly unique.
Courtney Durado revealed her photography while reciting an original poem and Mary-Alice Hernandez amazed the audience by speed painting a picture of Rocky Balboa.
Even contestant Janalee Mariotti chose to display more than just her vocals for her talent. The song "Taylor the Latte Boy" let her show her comedic side along with her voice.
Even the dancing was diverse, becoming a truly global affair, from Emily Becenti's Arabic belly dancing, to Maria Rebecca Orozco's Mexican folk dance and Thania Labra's hip-hop routine. Each one was unique and very well performed.
All the hard work was worth it for the young ladies. Each received a $50 scholarship for simply participating and eight other scholarships were awarded for things like participation, scholastics, and community service.
And then there was the moment each young lady had been waiting for: the crowning of Miss Grandview.
Diana Ocampo and Jessica Hernandez were first named co-finalists, receiving their crowns and flowers from their Junior Miss predecessors.
Then, at last, the Miss Grandview crown was awarded to Ranelle Kalaw, who had earlier entertained the audience with her hula dance.
Kalaw was thrilled to be crowned, but found it hard to believe afterward when her parents Gene and Iris Kalaw met her backstage to congratulate their daughter. She could not quite the find the words to express herself.
All together, "Groovin' with Miss Grandview" proved to be a night of big laughs along with both happy and sad tears, and left the audience excited to see what the new Miss Grandview and her court will contribute to their community during their 2010-2011 reign.