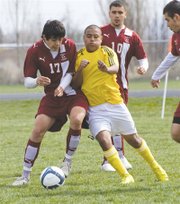 MABTON - Mabton Assistant Coach Mike Davis was pleased his team was able to fight back in the second half of Saturday's home match-up against the Highland Scotties, although the Vikings fell 5-2.
The Scotties came out early and scored first off the foot of Diego Silva at the seven-minute mark in the opening half, giving Highland momentum.
At the 23-minute mark, Scottie Luis Silva scored the next goal and he turned around for another score past Mabton's defense seven minutes later.
The Vikings fought to catch a break in the first half, but weren't able to capitalize on the many opportunities presented them.
Diddie Flores of Highland got the ball after a back and forth battle with not only the Mabton defenders, but the wind. Flores scored at the 37-minute mark.
Switching ends on the field, the Vikings hoped the advantage would be theirs in the second half.
"Mabton came out to play in the second half," shared Davis.
At the 43-minute mark, Mabton's Gill Macedo got in front of the goal and scored. It was his first goal for the season.
The Vikings were encouraged and six minutes later Tony Espinoza followed through with another goal when Highland keeper Antonio Gonzales caught the ball in the net.
The effort was not enough as Highland's Diego Silva again scored at the 76-minute mark.
Mabton keeper Gerardo Barjas saved a total of 11 shots on goal, five of which were in the opening half.
Gonzales had a total of 14 saves, 12 of those in the opening half.
Mabton, now riding a five-match losing streak, tomorrow (Tuesday) travels to face off with Wahluke.