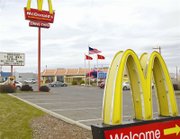 Just in time for the start of the 2010-11 school year, Ronald McDonald and his league of diners will have a new home in Sunnyside.
The Sunnyside McDonald's restaurant, located at 2200 East Yakima Valley Highway, will be replaced by a new one near the same site.
Plans call for construction on the new McDonald's to begin this spring or summer and wrap up by fall 2010.
Greg Luring owns the McDonald's in Sunnyside and 10 other locations. With a vision towards eventual construction, Luring says he purchased about a half-acre parcel adjacent to the Sunnyside McDonald's when he bought the eatery three years ago.
He says the existing restaurant here will be open for two of the three months it will take to build the new one.
Luring says the restaurant will be closed late this summer for about a month to accommodate the transition to the new restaurant and for the demolition of the old building.
The current workforce of 50 to 60 employees in Sunnyside will work at other McDonald's in the Yakima Valley during the closure, he said.
"We wanted to better serve our customers," Luring said of the new construction. "It will be a new, modern design. McDonald's will eventually convert all their stores to look like this over a period of time."
Luring said Sunnyside will be the first McDonald's in Yakima County to have the new look, which has a more streamlined appearance.
The new design will downplay the color red in favor of warmer tones, provide softer lighting while getting rid of the fast-food chain's trademark big red roof in favor of a flat roof. Think comfy bistro or café instead of hard plastic.
Among the features here will be an indoor play land and side-by-side double drive thru bays The new Sunnyside site will also have more parking and accessibility for large trucks and campers.
So why Sunnyside, and why now for Luring, who owns 10 stores in Yakima County and one in Ellensburg?
"It's a good way for me to bring that building up to snuff in one fell swoop," he said. "Rather than remodel, it's more cost effective to bulldoze and start over. This is a good way for me to get in there and improve all aspects of our operations with the hopes of giving better customer satisfaction."
Luring noted the current Sunnyside McDonald's building, which is about 30 years old, has been in need of an upgrade for several years.
The big picture goal, says Luring, is to increase business for McDonald's in Sunnyside.
"It will be a better place for our crew to work, for our customers and it should help with sales," he said. "It will give us a more competitive face for the customer."
Luring says the new McDonald's will cost nearly $2 million to build.
He says it's a worthwhile business decision, given Sunnyside's proximity in the Lower Valley.
"Sunnyside is a growing community," Luring said. "The store there has historically done well and we anticipate an increase in volume with this new building."
That's good news for the Lower Valley job market, as Luring said he plans to hire 10 to 12 additional employees to run the new eatery in Sunnyside.