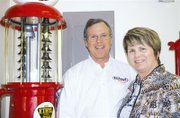 GRANDVIEW - The competition is tough in Chevron's Customer First program, but Grandview's R.E. Powell, owned by Gary and Annette Christensen, is among the top large distributors in the nation.
The local distributor placed third among Chevron/Texaco gasoline distributors that deliver more than 50 million gallons each year.
Because of this, the Christensens, who were at the top of the list last year, have been awarded an all-expense paid trip to Paris.
"Last year we went to China," said Mr. Christensen.
To obtain such high standing, Mrs. Christensen said there are three criteria the company's dealers and company owned stores must meet.
The various stores are visited by mystery shoppers every two months. For R.E. Powell that means being on top of the game. The stores must meet quality expectations of Chevron Corporation.
The sites, according to Mrs. Christensen, are evaluated on image. The signage, uniforms and advertisement of the store are inspected.
"If one employee is not wearing a name tag, you are automatically disqualified for the Customer First program's trip," shared Mr. Christensen.
He said stores must be given a 100 percent rating during the mystery shopper visits and when being evaluated on image.
The third criteria taken into consideration is credit card solicitations. "A set number of accepted credit applications must be met," shared Mrs. Christensen.
The Christensens say it is not just their company that serves the customers well. R.E. Powell is the distributor for Singer's Chevron in Walla Walla. That store has been among the top 15 stores across the U.S. two years in a row.
There are 8,000 stores evaluated annually and the owners of that store have been a success story. It is the first Chevron store in Washington state to achieve such a high standard two years standing.
"R.E. Powell and Singer's aren't the only gold award winners," shared Mr. Christensen, stating a store in Mt. Vernon also earned the highest achievement.
He said there are eight company operations and dealers that have also achieved silver award standing. The proprietors of those stores have been awarded a trip to Palm Springs, Calif.
The Christensens' son Justin said the field is narrowed down from the top 400 stores earning a 100 percent standing during mystery shopper visits. That number is narrowed to the top 200 stores through results of the image evaluations. The standard set for top credit approvals is five every two months. The store with the most credit approvals had as many as 200 last year.
"The competition is fierce," said the elder Mr. Christensen.