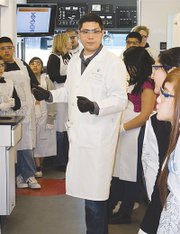 Last Friday students at Harrison Middle School were exposed to the world of DNA thanks to a visit by the Seattle Children's Hospital Science Adventure Lab.
Students interactively learned what DNA looked like through the process of extracting DNA strands from inside their own cheeks.
The bus, sponsored by the Math Engineering and Science Association, is a traveling laboratory.
"The bus ties in with the current health unit on DNA," shared HMS Science Teacher Darla Van Corbach.
She said the doctors on the bus also address careers in which DNA exploration is conducted, helping students learn there are several careers in the science field in which extracting DNA is beneficial.
The students gently chewed the insides of their mouths to gather cells from the inside of their cheeks. They combined the cells with water swished around in their mouths before collecting the contents inside test tubes.
Through a process called lysis, the students broke the cells down. They used a protease to rid the cells of proteins through inversion, which is a method of mixing the protease with the cellular collection.
The test tubes were heated to 50 degrees Celsius before -20 degrees Celcius ethol alcohol was added to the solution.
The ethol alcohol precipitates, forming a solid of the DNA.
The process allowed students to see DNA strands inside their test tubes after it had been isolated.