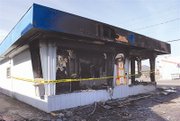 One-Hour Photo Express, located at 317 Yakima Valley Highway, has been a mainstay in Sunnyside for numerous years, but last night (Tuesday) the longtime business was destroyed by fire.
Sunnyside firefighters rushed to the blaze at approximately 11:30 p.m. last night.
When they arrived on scene, the building currently owned by Francisco Hernandez was engulfed in flames.
A caller reported to the Sunnyside Police Department glass blew out the front windows, and fire officials indicated to police the cause might be from a gas leak.
The business was once run by Donna Wyatt. It has changed hands three times since 2003.
The Yakima County Fire Marshal is investigating the cause of the blaze, which has left little in its wake.
As of press time, further details were not available.
Also since yesterday the Sunnyside Fire Department has responded to three aid calls. Two of those patients were taken to the hospital by ambulance.
One other patient was transported from Sunnyside Community Hospital to another medical facility.