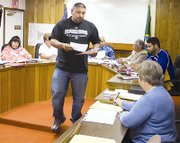 MABTON - Save the date, Aug. 7, as on that Saturday Mabton is planning to hold its Community Days festival.
Last night, Tuesday, during the Mabton City Council meeting, Ross Aparicio brought a proposed schedule of activities for the festival.
The plan, which met with approval by the city council, includes proposed activities such as a diaper dash, live mariachi music, dancing horses and a car/bike show.
In addition, Aparicio is looking into a posole contest, following along the lines of the tamale and menudo contests in Wapato and Granger, respectively.
Horse-drawn carts are also envisioned for the one-day festival to carry visitors from one event to another.
Mayor Angel Reyna also inquired about the possibility of a beer garden the night before the festival to serve as an informal kick-off.
A Miss Mabton pageant is also in the works, along with a parade.
The theme of the 2010 Community Days festival is "Honoring Our Heroes." Accordingly, local veterans, fire and police personnel will be recognized.
Aparicio, who serves on a festival committee, also discussed plans for craft and game booths, as well as pony rides.
He noted that there is still much planning that needs to be done to pull off all of the festival's proposed activities.
An organizing meeting will be held tomorrow, Thursday, at 1:30 p.m. in council chambers to further discuss Mabton Community Days.