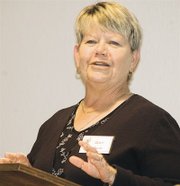 PROSSER - Funny and quick of wit, you would never know that Oregon resident Dixie Isom has had her share of sorrows in life.
Yesterday, Tuesday, she shared her testimony at the Lower Valley Christian Women's Club luncheon in Prosser.
Isom said she grew up in a happy household, the middle child in a family with 10 children.
After raising several chuckles about her trials of working a computer, Isom became serious when she asked the women how they cope with difficult circumstances, such as the loss of a child or divorce.
Isom described how her happy childhood eventually gave way to an at times frustrating marriage to her childhood sweetheart. A big part of that struggle, she said, is that her husband traveled for a living and was seldom home.
In an unexpected way, Isom was able to have her husband home when he lost his job.
What was most troublesome, she said, is that although she went to church and believed in God, she never felt she could be good enough.
"I realized no amount of good living would get me to heaven," she said.
Isom said that God began a slow process of changing her heart when she finally realized she needed to accept Jesus as her Saviour.
That growing process was challenged two years ago when after church one Sunday her husband suddenly died of a heart attack when he was shopping with her in Bi-Mart.
"I lost my husband of 55 years in five minutes," she said.
She says coping with that loss and continuing to grow in her relationship with God has required her to make a conscious decision every day to trust Him.
"I trust Christ, I have to trust Him and His perfect will," she said. "God loves widows and I choose to trust God through every decision.