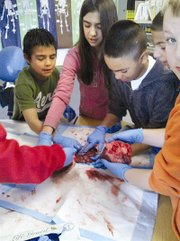 Thirteen-year-old Eunice Perez-Frias is going to space. The U.S. Space Academy to be precise.
For the second year in a row, a Sunnyside Sierra Vista Middle School student has won a scholarship that will send nine students from the state of Washington to the space academy in Huntsville, Alabama.
Perez-Frias was encouraged to apply for the scholarship by Sierra Vista counselor Lupe Fraga.
Fraga had been presenting the opportunity to apply to his students for years. Sponsered by OSPI and the Migrant Education Regional Office, applicants have to be migrant students, between 12-14 years old.
Winners get an all expense paid week at the U.S. Space Academy.
Fraga's efforts paid off big last year when Hannah Fernandez, then an 8th grader at Sierra Vista, won the scholarship. Fernandez also happens to be Perez-Frias' second cousin.
But Perez-Frias had to win the scholarship on her own. Her mother, Maria Frias, was very supportive, so the 7th grader decided to apply.
With Fraga ready to nominate her, Perez-Frias had to get letters of recommendations from two teachers. She chose to approach Andrea Greer, her math teacher, and Emma Byman, who teaches science.
In addition, Perez-Frias had to write a very intricate essay. She wrote about why she wanted to go to the space academy, life as a migrant, her goals to become a pediatrician and why she liked math and science.
Math, she wrote, is a challenge. "All numbers have to be exact, like ingredients in a recipe, to get it right."
All the ingredients in Perez-Frias' application were just right. She will spend her week in Alabama this July, leaving from Yakima with two other students from the Yakima Valley and a teacher chaperone from Wapato.
But for now, Perez-Frias is busy being your average teen who just happens to be a fine example of what hard work and determination can get you when opportunities are presented.