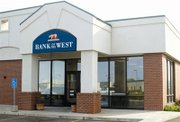 With more than 600 branches in 10 states, Bank of the West will have one less come this summer when the Sunnyside branch is shut down.
Jim Cole, a spokesman for Bank of the West, said the Sunnyside branch will close at the end of July. Notices will be sent to Sunnyside branch customers at the end of this month and customers can expect a phone call, as well.
Bank of the West operates two other branches in the area, one in Yakima and the other in Kennewick. Cole said Sunnyside branch customers can transfer their accounts to one of these branches if they choose.
Cole said the impending closure of the Sunnyside branch is part of Bank of the West's ongoing process. Cole said Bank of the West is constantly monitoring its branches to best fit the needs of its customers.
"After our most recent assessment it was decided to close the Sunnyside branch," he said.
The Bank of the West Sunnyside branch currently has three employees. Cole said a role for these three employees at other Bank of the West branches is being looked at.
Sunnyside is part of the Northwest Division of Bank of the West, which is headquartered in Portland, Ore. Corporate headquarters are in San Francisco.
Bank of the West has been in Sunnyside for just over 10 years.