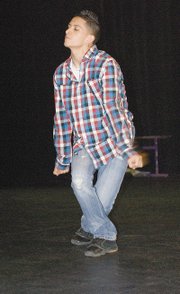 Sunnyside High School will be showcasing some of the Lower Valley's best dancers next Friday, April 23, at its first-ever dance competition.
The event is a fundraiser to benefit the SHS Drama Club and its activities.
The competition is open to youngsters in grades K-12. Students from throughout the Lower Valley were invited to audition for the event, which has been whittled down to a field of nearly 30 acts.
The dancers include individuals and groups, showcasing dance routines that range from ballet to modern and hip-hop styles, as well as a few traditional dance genres.
There are two age divisions, including elementary/middle school and a high school division, that will be judged at the event.
Sunnyside's Corey Murphy and Felicia Abbott organized the dance competition and believe the audience will be fully entertained by the young and talented artists on stage.
"The judges are actual dance instructors or coaches," shared Murphy, adding, "We wanted judges who are knowledgeable in the dance arts."
He earlier said, "We have so many talented dancers locally that we felt this would be a good way to get them on stage."
Tickets for the April 23 event are $5 each at the door, and the competition begins at 7 p.m.