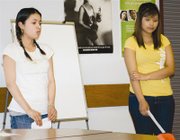 GRANDVIEW - The Grandview School District hosted a forum yesterday (Thursday), providing information about the dangers of sex, including pregnancy and STDs (sexually transmitted diseases).
Guest speakers included Darlene Agnew, a retired Yakima Health District nurse; Life Options Director Jan McDonald; and Kathy Iwami of Life Options. Also speaking to those gathered were two teens, who got pregnant at the age of 14.
The two young ladies, Engie Hernandez and Erika Sanchez, told the audience there are many challenges associated with being a teen parent.
The pair both said they feel they would not have engaged in sex and gotten pregnant had their parents been more involved in their lives.
"My parents didn't really talk to me. They were involved with my sister's life," shared Sanchez.
Hernandez said there are many in school whom she notices are not well-informed. She said her classmates often face situations they are not prepared for because they lack the knowledge and the parent involvement to make complicated decisions for their lives.
Of her situation, Sanchez tries to balance school with her responsibilities as a parent. She said finding a job to support her child is not easy, especially since she is still attending school.
"A can of formula costs $20," shared Hernandez.
"It's also difficult for our parents because they expect us to have made better choices," she continued, stating better choices could have been made had her parents been more involved in her life.
Sanchez urged the parents at the forum to provide youngsters with structure. She said talking to children about sex is critical, and she feels it may prevent teens from having to struggle as teen parents in the long-run.
Agnew and those gathered applauded the two young ladies for standing up and speaking out. "You two are a great example to your peers and can provide them with a lot of valuable information," she interjected, stating the two young mothers can help their classmates better understand teen pregnancy and parenting.
"You two should be proud of yourselves because you are doing the right thing," she continued, adding teen parenting is not easy. However, the young women can speak to those around them, acting as a peer resource.
Agnew provided those gathered with details to the dangers of sex beyond the issue of teen pregnancy.
She said she tells teen girls, "Boys will lie to you to convince you to have sex."
As a nurse for 45 years, Agnew has seen individuals suffering from STDs. Pelvic inflammatory disease used to present itself with symptoms of severe pain, but it is no longer as obvious when one has an STD.
The nurse shared the dangers of contracting Chlamydia and Gonorrhea are wide-reaching and women can have either disease for a long period of time without knowing so.
"A guy can wear a condom the first time you have sex with him and give you the disease," Agnew shared, illustrating her point with a drawing on a white board.
She said the two diseases, if unchecked, can infect a woman's fallopian tubes and ovaries. If not treated promptly, the diseases can eliminate a woman's ability to have children without the woman being aware of the problem.
Agnew advises any teen who has had sex even one time to get an STD screening.
She said there are 27 strains of venereal disease, of which many are treatable.
"If it has an 'H,' it can't be cured, such as Herpes," Agnew shared.
A problem that has become widely spread is the Human Papilloma Virus (HPV). More youngsters are experiencing this disease. "One in three girls in middle school and high school are exposed to HPV," she said.
Males, too, are exposed to the virus and they can live 10 years without knowing so. Several strains of the virus, said Agnew, cause cancer. The good news is there is a shot, Gardasil, now being provided to young women beginning at the age of nine.
That shot helps prevent four strains of HPV, and the pharmaceutical companies are looking to offer it to males.
The problem is so widespread, shared Agnew, dentists are now looking for the virus in mouths with the prevalence of oral sex.
"Prom night is the worst, ladies," she looked to the teen girls at the presentation. She hates prom night because young women go on a date, often first date, and have sex. She said the choices made are often not the wisest because of the expectations the boys often place on the date.
"It's not wedding night!" shared Agnew, stating there is no reason to engage in sexual intercourse to meet the expectations of a date.
"You need to know the character of the person you are with...make a prom night memory," Agnew advised.
She continued, sharing it is her belief there is going to be an "explosion of STDs among Hispanics."
Agnew explained, stating people of the Hispanic culture don't often feel comfortable talking about sex and education needs to be provided to them to address the dangers.
"I tell dads to take their daughters on dates, showing them what a man should act like and providing them information," she shared, adding she advises women to take their sons on dates, as well.
"It's time to get past the embarrassment, parents," Agnew challenged.
Speaking next was McDonald and Iwami. The pair told of the services provided by Life Options.
McDonald shared there is an importance of understanding there are psychological effects to sex and the dangers of sex, as well as the physical dangers.
She said depression, substance abuse and difficulties with relationships can result from an abortion that followed an unplanned pregnancy.
"Twenty-five percent of pregnancies end in miscarriage or ectopic pregnancies," McDonald said, adding it is important to have an ultrasound to make sure one doesn't have an ectopic pregnancy.
"At five weeks, we can see the small, beating heart," she said of the ultrasounds provided by Life Options.
Her agency provides mothers and fathers with information and referrals when facing decisions associated with unplanned pregnancy. The materials and services empower the individuals, giving them options for medical advice and decision-making.
Iwami shared information regarding the organization's parent presentations. At the presentations, the organization gives parents the tools for talking to their children about sex.
"We need to answer their questions," shared Iwami.
She also noted parents, according to studies conducted across the nation, still have an influence in their teens' lives.
"It might not seem they are listening, but they are," Iwami said.
"Talk to your kids, know their friends and be involved," she advised.