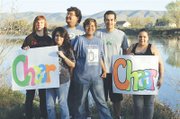 GRANDVIEW - On Saturday, April 17, four Grandview High School seniors will witness the culmination of four months hard work. Along with family, friends and volunteers, they will be hosting a drama workshop at Grandview High School.
Elsie Martinez, Miriam Robles, Kalani Thorne and Steven A. Mahre have each been working on individual senior projects that will combine to become the workshop.
Registration for the workshop will last an hour, beginning at 6:30 a.m., where attendees will be offered a light breakfast before workshop sessions begins.
The sessions are diverse, covering four very different aspects of drama. Martinez will run the session on stage makeup, Robles will cover musicals, Thorne plans to teach attendees about lighting and sound while Grandview post-graduate Israel S. Ruiz has volunteered to lead a workshop on stage combat.
These sessions will last until 11:30, when a lunch of Domino's pizza and Pepsi will be served.
The day will then conclude with a showcase that includes contests from three of the four workshops, a preview of Grandview High School's spring drama production, improv comedy and a song sung by Robles.
Through all this, Mahre will be overseeing security and administrative duties. He will organize volunteers, ensure meals are prepared and prompt, and see to it that each session has the supplies they need.
The work these students have put into this event is inspiring. Their senior projects require that they put in just 15 hours of their time, but already each student has clocked more than 25 hours.
Each teen has put their hearts into these projects, seeing an opportunity to both learn and bring something unique and important to their community.
The greatest lesson they may have learned was that a community can really come together to help each other out.
Operating a drama workshop is more than hard work, it can be expensive, but the students have received a tremendous amount of support from the community. Everything from the food they plan to serve, to the contest prizes, has been donated by local businesses.
But the best example of how these students have worked with local businesses has nothing to do with their senior projects.
Former Grandview High School woodshop teacher Gordon Lingly designed a collapsible stage which he then helped the teens build. All the supplies to the stage were happily donated by Noble's, Fastenal, Bi Rite Lumber, and Grandview Lumber.
The stage will be presented to the Grandview High School drama department.
Cleo Peton, senior project mentor to three of the teens and mother to Mahre, says she could not be happier of what they have put together.
"These kids are very strong leaders," she said proudly, "They set goals... and really jumped into what they were going to do."
She is also very proud of the community support, noting that several businesses told her she could call on them if they need anything else.
The teens are just excited for Saturday and they see the value in what they have to offer.
Martinez always wanted to join drama but was too shy. She sees this workshop as a chance to let shy teens get a taste of the theater and it might inspire them to become involved.
Meanwhile, Ruiz believes the project is important because students will get to see "the art behind the art."
Every high school and middle school student in the Valley has been invited to attend, but there is no telling what the turnout may be.
Cost for high school students is just $5, and middle school students can register for $3. All the money collected will be put toward the Grandview drama club.
But this may not be the last time Grandview sees this workshop. Plans are already in the works for another one this fall.
Still, that is some time off. For now, these teens are just busy preparing for Saturday.