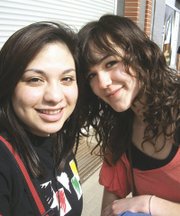 When Tarah Jenine Cruz speaks about her mission work, her eyes light up with joy, but at just 19 years old, it is clear that Cruz has found her calling.
It all began last August, when the recent Sunnyside High School graduate decided to join a mission trip to El Salvador. Once there, Cruz engaged in a lot of manual work, as well as ministry work, and she began to solidify a friendship with the mission leader, Steven Dilworth.
It was this leader, who months later, informed Cruz that on the Poland mission trip she planned to join in April, he would like Cruz to take on a leadership role.
Though Cruz was hesitant about his decision, it was clear she found the strength she needed.
Just days from her return to the U.S. this past Monday, Cruz is all smiles and happy to relate her week in the Polish town of Elblag.
The work set out for Cruz and a mission of over 100 people was very different than what she had done in El Salvador. Their goal in Poland was to help a local church that was, while very big and popular, really rather young.
They wanted to help the youth group there develop an idea of what mission work can do for a community.
Cruz's team consisted of nearly a dozen people and they gathered together on the streets, making balloon animals to attract interest and speak of the Lord and his work whenever possible.
They handed out bracelets and print out paper that explained the bracelets' meaning.
It is a very simple bracelet, a black string with five different colored beads, but the meaning is powerful.
Black represents sin, Cruz explained, red is the blood Christ shed on the cross. White is when we accept him into our lives and green is how we grow in Him. Finally, yellow is His promise of Heaven.
Cruz also explained the bracelets were ideal tools to help share their own testimony as they each had their own experience with sin, releasing what Christ did for them, accepting Him as their savior and growing in His love.
Cruz recalls that every day a new great story was discovered, like the 20-year-old woman who had prayed for missionaries at a youth camp only to return home and discover that Cruz's group would be arriving in April. Or a young woman named Agnes who was so pleased to have the mission come around to help her grow in her faith.
"God used you in a special way," Cruz said, "even if it was just to connect with that one person."
But every day was filled with pain, too. During a drama performance the missionaries put on at a school, Cruz was confronted by a young man who was about 16 years old. The boy asked Cruz how her God could possibly let his friend get shot in the head.
Cruz was almost speechless, but seeing the pain in his eyes, she knew she had to say something. She told him that the devil's work is all about disguising itself as the work of God. But it was important to learn the difference between the two.
The boy lashed out, calling them all great actors and liars.
"God gave me the words," Cruz said, looking anguished over the event, even after so much time had passed.
Still, Cruz said she felt like she had failed after the encounter, but a girl spoke to her afterward. She commended Cruz for keeping her calm, finding that strength to take the boys' angry words.
Dilworth also told Cruz she ought to consider it a win. Even if the young man did not find God that day, he met one of His servants who showed him that the people under His guidance are loving, caring people who will not fight with him, but are always ready to accept him.
Quite possibly the most trying time for Cruz and her mission group came late in the trip. On Saturday, April 10, Poland experienced a national tragedy when their president and several other important political, spiritual and social leaders perished in a plane crash in Russia.
The mission members halted their preaching out of respect and decided to just pray for the town, the countries and those lost in the crash.
The streets were emptied, Cruz recalled, but the next day everyone emerged in black. The solidarity was inspirational.
With their mission work in Poland coming to an end, Cruz and her group gave the youth group there the remaining supplies.
With the message that "Through God all things are possible," Cruz and her team left to return to home.
The whole experience has touched Cruz on every level, from emotionally to spiritually, and she is extremely grateful for the opportunity.
She is thankful for her church family here in Sunnyside. The Neighborhood Church on 385 East Allen Road was instrumental in helping her get to Poland. She encourages anyone who has not found a church family for themselves to seek one out because she knows firsthand the love they offer.
She is grateful for her mother, Rita Cruz, and her family for being her rock and providing comfort, as well as to her aunts, Rachel Ramos for getting her to meetings in Olympia and assisting her in raising money and Rosey Ramos, for all the prayers, love and support.
But mostly, she is thankful to Christ, for loving her and using her as such an important tool.
Cruz has big plans to continue her mission work. Next year, Cruz also plans to go to Bolivia and follow up on her work in Poland. She thinks she may even go to Africa sometime.
But for now, Cruz is busy planning for her next trip to El Salvador in June. With a cost that exceeds $2,000, Cruz certainly has her work cut out for. Fortunately, this young woman is not afraid of a little hard work.
God bless you, or, as the Polish people would say, "Niech ci btogostaw."
Anyone who would like to contribute to Cruz's next trip to El Salvador can call and make a donation to the Neighborhood Church under her name at 509-837-6255.